Hello! I'm Clara Parkes. Welcome to The Wool Channel, my publication and community dedicated to the extraordinary world of wool.

Launched in 2021, TWC is ad-free and entirely supported by you.
I invite you to join me and other wool ambassadors on the journey. Become part of this passionate network of informed consumers. We advocate for wool in the world and have fun doing it.
As a member of TWC's Foundation Flock you'll enjoy insightful articles, monthly livestreams, and connecting with a community of fellow wool lovers—all while fueling TWC's public wool advocacy work.
With the free option, I'll keep you in the loop about news you won't want to miss.
Even better, I invite you to join TWC's Foundation Flock and be part of rebuilding a wooly world!
Take a peek inside the 1935 test for the Worsted Yarn Manufacture technological certificate from the City and Guilds of London Institute.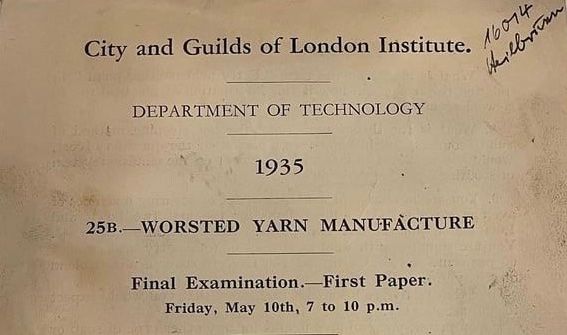 Woola wins, big dye comes to Mountain Meadow, Holly Browder goes local, Sheep Inc gets negative, single-farm hats from Kaminski, a coarse wool solution in New Zealand, traceability comes to Vietnam.
Dreams for American Woolen Company, Bremworth helps NZ's sheep farms, meeting Montana's McKamey family, swapping plastics for wool, revisiting the classic McDonalds, saving wool tables, and using wool to ace tests