The Wool Wire | April 5, 2023
Tackling the gloom with uplifting wool stories from around the world: British Columbia, blankets from Somerset, the importance of the community fiber mill, wool finding its way to vineyards, surfboard fins, and gym handles in Wales, and an Australian success story.
News snippets from the wool world
Greetings, wool friends!

Again and again, we hear about producers burying or burning their wool for lack of market. A steep decline in wool prices (for everything that isn't finewool) has left many farmers with very little motivation to even bother getting their wool to market. In some cases, after paying $13 to shear the sheep, they're only being offered $2 or $3 for the fleece.

Of course, they might be able to get a lot more from handspinners, but that would require a shift in how they oversee their breeding program and flock management practices. It can make sense for some farms, but possibly not for all of them.

The whole "they're burying and burning fleece!" cry is a common narrative we've heard for years now—but it's not the entire picture. This week I'm changing lenses to get a bigger view of what's happening around the world. It's not all bad news. Growers are refusing to give up. They're joining forces, innovating, investing, and engaging others in conversations.

The results are inspiring.
---
We begin with the all-too-common news piece. This one details the struggles of growers in British Columbia—especially those who live on the islands.
With wool selling for only 10 to 70 cents a pound, sheep farmers say it makes more financial sense to burn or compost it rather than pay to clean, bag and transport it to the Lower Mainland, then Alberta or Ontario for processing.
Even when the Canadian Co-operative Wool Growers arranges (and pays) for an island pickup each fall, the wool revenue still doesn't come close to covering the cost to shear or even buy bale bags for the wool. As a result, collection numbers have plummeted.
But keep reading. You'll see signs of hope. The article profiles one farmer who has pivoted to wool pellets, and it also introduces us to the only full-service fiber mill left in British Columbia.
Speaking of which, here's an excellent list of wool producers in British Columbia, and an even deeper list of Canadian indie dyers, mills, breed-specific and farm-specific yarn makers.
---
Meanwhile, across the pond in the UK, Somerset smallholders Rhian and Mark Rochford were facing similar challenges finding a viable market for their naturally colored Ryeland and Black Welsh Mountain wool—breeds that also don't fall under the finewool category.
They decided to take matters into their own hands and turn their raw wool into a product that they could market themselves.
Gather is a brand born from our love of sheep and a desire to produce 100% British wool blankets and products which are sustainable and traceable.
The Rochfords have connected with other smallholders and farmers to buy their raw fleeces too. Wool is processed, spun, and woven into blankets at British mills, which has the added benefit of keeping those pieces of the supply chain healthy too. Blankets are priced at £135.00, or around $135 US, and each is numbered and can be traced back to the original flock.
The next collection will use a blend of Black Welsh Mountain, Lleyn, and North Country Cheviot.
---
An Important Link
To be able to do what the Rochfords did, you'll need access to a mill. The closer it is, and the smaller its minimum production requirements, the lower the barriers to making finished goods from your raw wool. Junction Fiber Mill in White River Junction, Vermont, is a perfect example of a regional mill filling that need.
---
Meanwhile, in Wales...
Wales is another region that has been geographically favorable to gorgeous, resilient, yet decidedly not finewool sheep breeds. But that hasn't stopped them from making creative inroads.  
This one is fun. A while back (in 2021 to be exact), Welsh farmer Gareth Wyn Jones and his son Sion were visiting Gwinllan Conwy Vineyard in Wales. They learned that the vineyard was using a glyphosate herbicide (aka Roundup) around the vines. They got to talking with the vineyard's co-owner about organic alternatives, and Jones suggested they give wool a try. Which they did!
They set up a test area within one row of vines, and then tested the soil and leaves against conventionally weeded vines at the end of the season. The results were fantastic. Not only had the fleece prevented weeds and deterred slugs, but it had also acted as a slow-release fertilizer to keep the soil in balance. The white wool even helped the grapes ripen more fully by reflecting light upwards.
Fast-forward to this year, when the vineyard received a load of 3,000 Welsh coarsewool fleeces from the newly formed Wool & Vine—founded by Gareth and his son to provide fleeces directly to other wineries that want to pursue a similar methodology.
Wool & Vine has revealed it has been approached by contacts in New Zealand to talk business. Its founders have also partnered up with British Wool, the marketing body for Britain's sheep farmers, to utilise its network. If this sustainable winegrowing idea takes off, it could provide an outlet for millions of sheep fleeces that would otherwise be worthless, or worth very little.
Tasked by a Welsh Government funded project 'Made with Wool', Product Design students at Bangor University accepted their challenge to create innovative products using Welsh Wool which included mountain bike mudguards, surfboard fins and fruit bowls.
The Made with Wool project is also at work to restore the future of Welsh woolen mills so that local designers can keep production within the region.
Well done, Wales!
---
Not to be confused with Virginia Woolf's sister of the same name, the Australian Vanessa Bell was once an international fashion model before falling in love with a sheep farmer and becoming "one of the only women in the world with a landholding more than twice the size of Paris." Lucky for us, that land happens to hold a very large number of sheep.
Bell launched her eponymous business with a small line of handknitted heirloom Australian Merino baby blankets. They're made by knitters in Australia, orders have a minimum of a three-month lead time, and the products cost upwards of $1,000 US. Bell will soon add a fashion line for adults, all of which will be manufactured in Italy (and very much not by hand).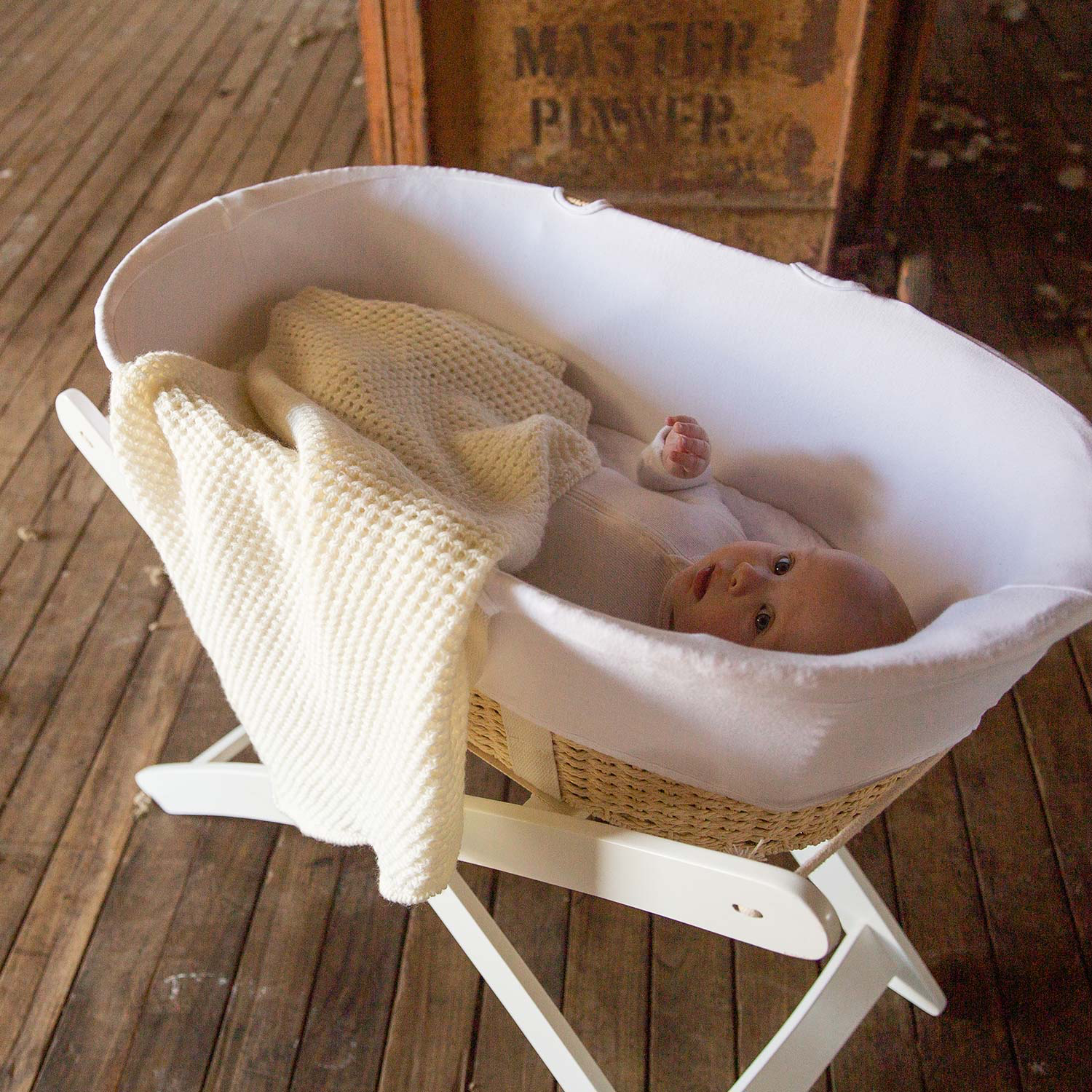 Obviously, Bell's struggles will differ greatly from those of a small fiber producer in Wales or western British Columbia. But even from her privileged perch, Bell is working hard to advocate for greater wool adoption, as well as sustainability and regenerative agriculture within the fashion and textiles world. Her company motto is, "To Inspire New Generations to Choose Wool for Life."
Each of us has a platform from which we can help raise wool's profile in the world, whether it's a chat at a winery, baby shower, garden center, or university.
The news is good. So let's keep moving this forward.
Until next time,
Clara
Comments