The Wool Wire | August 10, 2022
The life of a wool classer, sustainable traceable interlinings, wool urns and camping blankets, and hurrah for the pause of the Higg Index.
News snippets from the wool world
Welcome to another issue of The Wool Wire, your semimonthly update on all the cool, strange, noteworthy developments in the world of wool!
---
Considering a career change? Here's a fascinating profile of the 40+-year career of Barbara Newton, a New Zealand wool classer. She was the first wool classer appointed as a "representative to the Wool Board Classer Registration Advisory Committee and an inaugural member of the NZ Wool Classers Association Inc." She talks about changes in the "wool harvesting" industry (I'm still trying to get used to that term) and the varied aspects of her work.
---
At the Future Fabrics Expo in London ..., apparel interlinings manufacturer Chargeurs PCC launched the first collection of inner components made with sustainable and traceable, blockchain-backed Nativa wool, which counts Stella McCartney, Vivienne Westwood, Madewell, Napapijri and Reformation among its users.
Yes, there's a whole division of Chargeurs dedicated just to interlinings, aka "a lining (as of a coat) sewn between the ordinary lining and the outside fabric." I had to look that up. Here in the U.S., another branch of the Chargeurs empire operates our only commercial scouring-to-topmaking facility.
---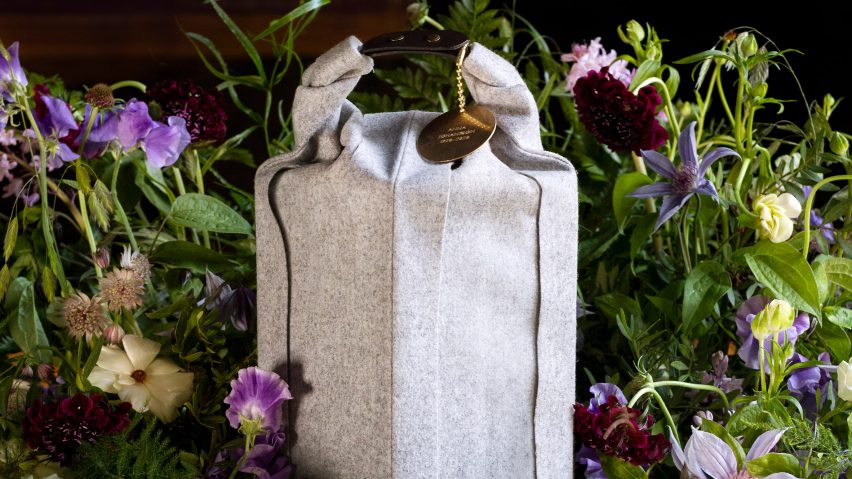 "Swedish architecture and design studio Claesson Koivisto Rune has combined wool and vegetable-tanned leather to craft a cremation urn, which will naturally break down in soil once it is buried. The studio used wool to form the urn as it says the material provides a sense of warmth and protection while reducing the product's impact on the environment."
---
Outdoor Life takes a look at four camping blankets evaluating warmth, comfort, washability, and price.
---
And finally, here's some good news from the greenwashing battleground. Did you read my deep dive on the Higg Index? Here's the latest as SAC responds positively to criticisms of how the index was developed.
"We have made the decision to pause the consumer facing transparency program globally as we work with the NCA and other consumer agencies and regulators to better understand how to substantiate product level claims with trusted and credible data."
The journey away from corporate greenwashing and toward truth is going to be a long one, but pausing Higg and getting those sustainability ratings fixed will be a decent first step.
Thanks as always for your readership and your support.
See you in two weeks!
Clara
Comments