The Wool Wire | July 26, 2023
Wool in foam, felted concrete, and car seats, plus Shaniko & fashion designer Janessa Leone, South African update, and Pendleton's support for the National Park Foundation
News snippets from the wool world
Hello!

Tis the last Wednesday in July. I'm wearing linen from head to toe to keep cool, with so many fans blasting that I feel like I'm living on a runway.

But this doesn't mean my life is sans wool. At night, I continue to get deep and restful sleep in my wool pajamas, snoozing atop a wool mattress pad that now covers, drum roll please, a wool mattress.

Sleeping on wool may be a funny thing to be happy about during a heatwave, and yet all the reports and marketing claims are true: It really is wonderful to sleep on wool.

Meanwhile, I have many other things to discuss this week! We have three novel stories about how wool is finding its way into industrial design, from upholstery stuffing to furniture to car interiors.

Then, we meet a fashion designer committed to using American wool, and we see how Pendleton wool blankets are helping the National Park Foundation. And finally, wool growers in South Africa have reason to rejoice—and I'll tell you why.

Let's go!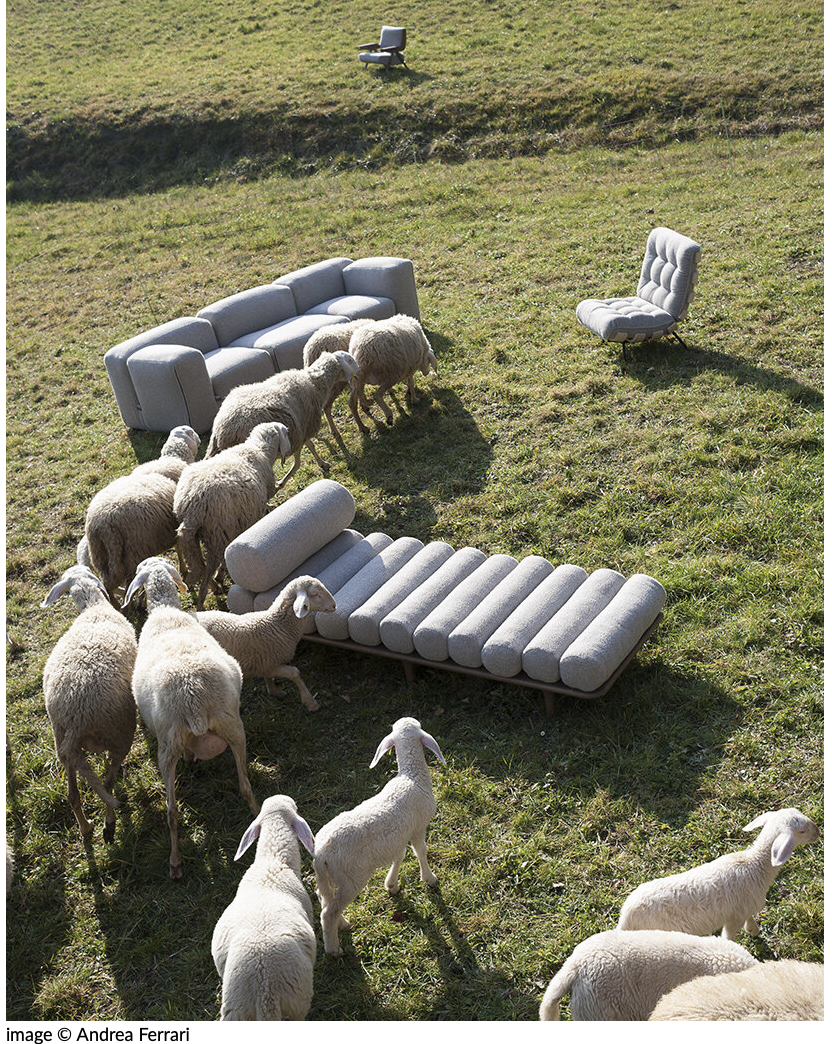 We begin with a jaunt to Milan Design Week, where new seating designs from tacchini and formafantasma showcase an innovative new upholstery that combines wool and latex.
The technique is inspired by antique mattress production and involves using surplus sheep's wool to replace industrial foam. Softness and stuffing is created with natural latex in combination with non-polluting sheep's wool, a natural material that is usually considered a waste product.
---
In Long Island City, New York, artist Susannah Weaver is taking a different approach to using wool in her designs. She is mixing it with concrete to make lamps and tables and chairs.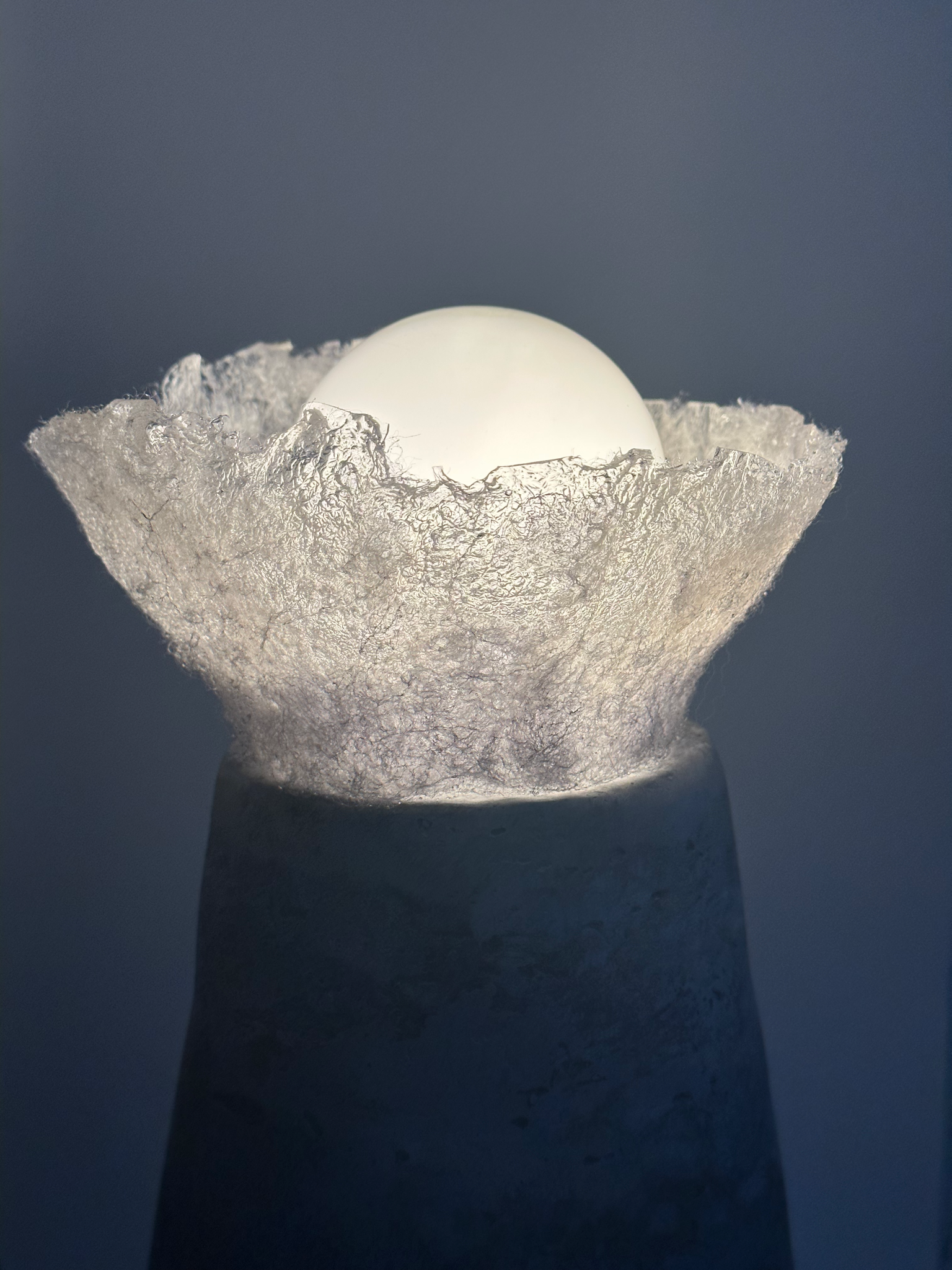 At the Healthy Materials Lab at Parsons, where she was a student researcher, Weaver learned that sheep's wool was a more sustainable alternative to foam upholstery. She especially appreciated its living qualities. But to build anything out of it, she needed to make it stronger, so she tried mixing it with concrete. Applying a technique used in rammed-earth architecture, Weaver layers concrete and wool into a mold and compresses the mixture with a very long wooden spoon. As the mixture cures, the dyes from the wool bleed into the concrete, creating a marbled look. Once it's dry, she removes the object from the mold and sands the surface, which frees tufts of fuzzy wool from the concrete, giving it a more tactile, softer finish.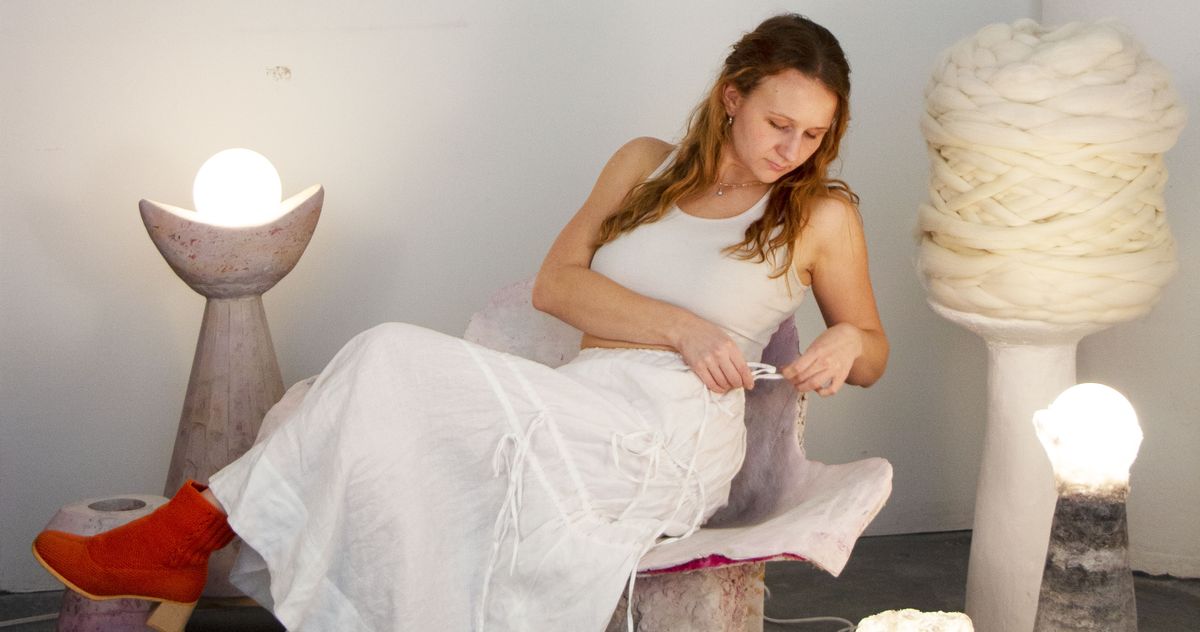 ---
By 2030, Volvo Cars aims for all its new cars to be fully electric—and by 2040, the company also hopes to become a climate-neutral circular business. I'm pleased to see Volvo's commitment extend to the interior of its cars.
In 2020, Volvo began adding an optional wool-blend upholstery in several of its models. Now, it has expanded the use of this fabric, including into the new all-electric EX90.
The fabric is made in Europe and contains a blend of 30% new wool and 70% polyester. While that's not a lot of wool, it still marks a pivot away from pure plastic—and it's a brilliant way to raise wool awareness among car-shopping consumers.
---
I enjoyed this Fast Company article showcasing fashion knitwear designer Janessa Leoné and telling the story of how she shifted toward American wool—with the help of Shaniko Wool Company's Jeanne Carver.
Part of the reason that Leoné has been able to make this switch is that her label is known for its high-end knits, which cost upwards of $300 and can run as much as $797. From the start, she priced her garments to incorporate high-quality raw materials, so it was easier to switch to Shaniko wool. But many other fashion brands are more price-sensitive, which is why cheaper wool dominates the market. Until consumers are willing to pay more for sustainably sourced products, or governments impose more stringent regulations on agriculture, it's unclear how scalable Shaniko's approach will be.
---
Improved infrastructure and quality breeding stock? What's not to love? This story comes from Eastern Cape, South Africa, where Embekweni Woolgrowers have received a full-fledged shearing shed and more than 100 Dohne Merino rams.
This intergovernmental investment is aimed at improving wool quality and boosting emerging producers, including those from previously disadvantaged backgrounds—especially in women-led households.
The investment by the Eastern Cape department of rural development and agrarian reform (DRDAR) and the Chris Hani District Municipality is to improve the quality of clips produced by communal farmers across the district.
---
And finally, here's an inspiring milestone from Pendleton Woolen Mills. Since launching its National Park Collection blankets, the company has raised more than $1.5 million for the National Park Foundation, a nonprofit dedicated to protecting and preserving our national parks. Go Pendleton, and go team wool!
On that note, I'll let you get back to enjoying the last few days of your July.
Thanks as always for your readership and support.
Until next time,
Clara
Comments