The Wool Wire | May 18, 2022
Woolmark launches new online course on sustainability, plus an award-winning new wool boot, a peek at Minnesota's wool economy, and a wool bust of Prince Charles
News snippets from the wool world
In just a few hours, you can become fully conversant in the high-level concepts, frameworks, and strategies for incorporating sustainability into textiles.
"This course (6 modules, 4 hours) will provide an introduction into the concepts, global sustainability frameworks, and strategies to support sustainable and even restorative business in the textile industry. We will be exploring key issues and questions relating to sustainable development, legislation, collaborative global goals, and ways to measure and manage the textile industry's impact on people, planet, and prosperity."
---
A new all-wool boot – the Stad – is the overall winner of the Scandinavian Outdoor Award for 2022-23

"The boot uses 100% woven wool from Norwegian sheep. It's a hybrid of a trendy and comfortable winter boot for everyday use on urban and suburban walks. Available in the US in September, 2022."
The shoe's designer, Ingrid Brandth, talks about why it won the award in this IWTO article.
---
Understanding Minnesota's wool economy
Reports on the 'who,' 'what,' 'where,' and 'why' of wool and meat production in Minnesota's sheep farming industry

"Minnesota has the 12th largest sheep population in the United States. There are 39 different breeds of sheep raised on farms in Minnesota, for both wool and meat. Shepherds reported using a variety of sustainable farming methods….
Low financial reward, difficulty marketing, and the cost of processing were described as the biggest barriers to shepherds selling wool.
This comprehensive report was a collaboration between Get Bentz Farm, Three Rivers Fibershed, and the University of Minnesota Regional Sustainable Development Partnerships."
---
A hand-needle-felted bust greets Prince Charles in Canada. The artist Rosemarie Péloquin discusses her techniques. Read on in the article for a short take on Canada's Campaign for Wool.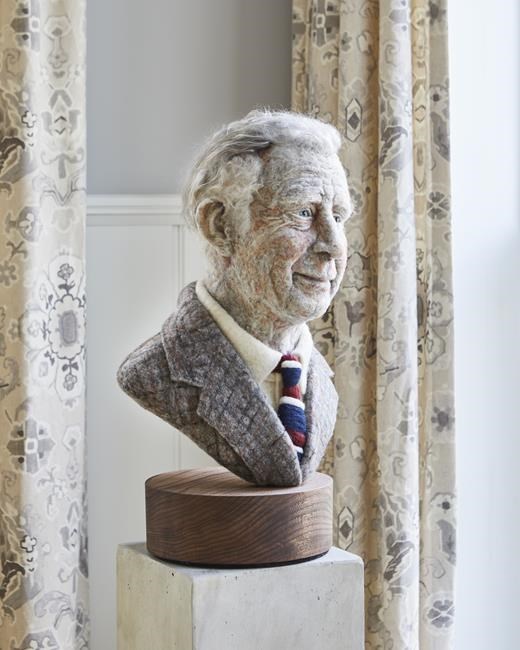 ---
Have you seen the new "Why Wool Matters" video from the UK's Campaign for Wool?

The new video brings shepherding, regenerative agriculture, and climate action into the global conversation about wool's merits. Since its beginnings in 2010, the Campaign for Wool has been a leading force in advocating for wool around the world.
"Wool is an overlooked planet-friendly fibre, and the film aims to highlight wool's natural eco properties, including its biodegradability, along with circular economy, regenerative farming and feed management in relation to reducing carbon and methane gas emissions.
Choosing wool clothing and interior products over man-made fibres assists the biodiversity of the land on which life exists, and as an investment wool lasts longer and is healthier for the skin and the home/office environment. Even small and minor gestures can collectively make a significant difference in assisting the planet in the rebalancing of nature, if everyone were to choose wool."
---
Comments