Flocks and Fibs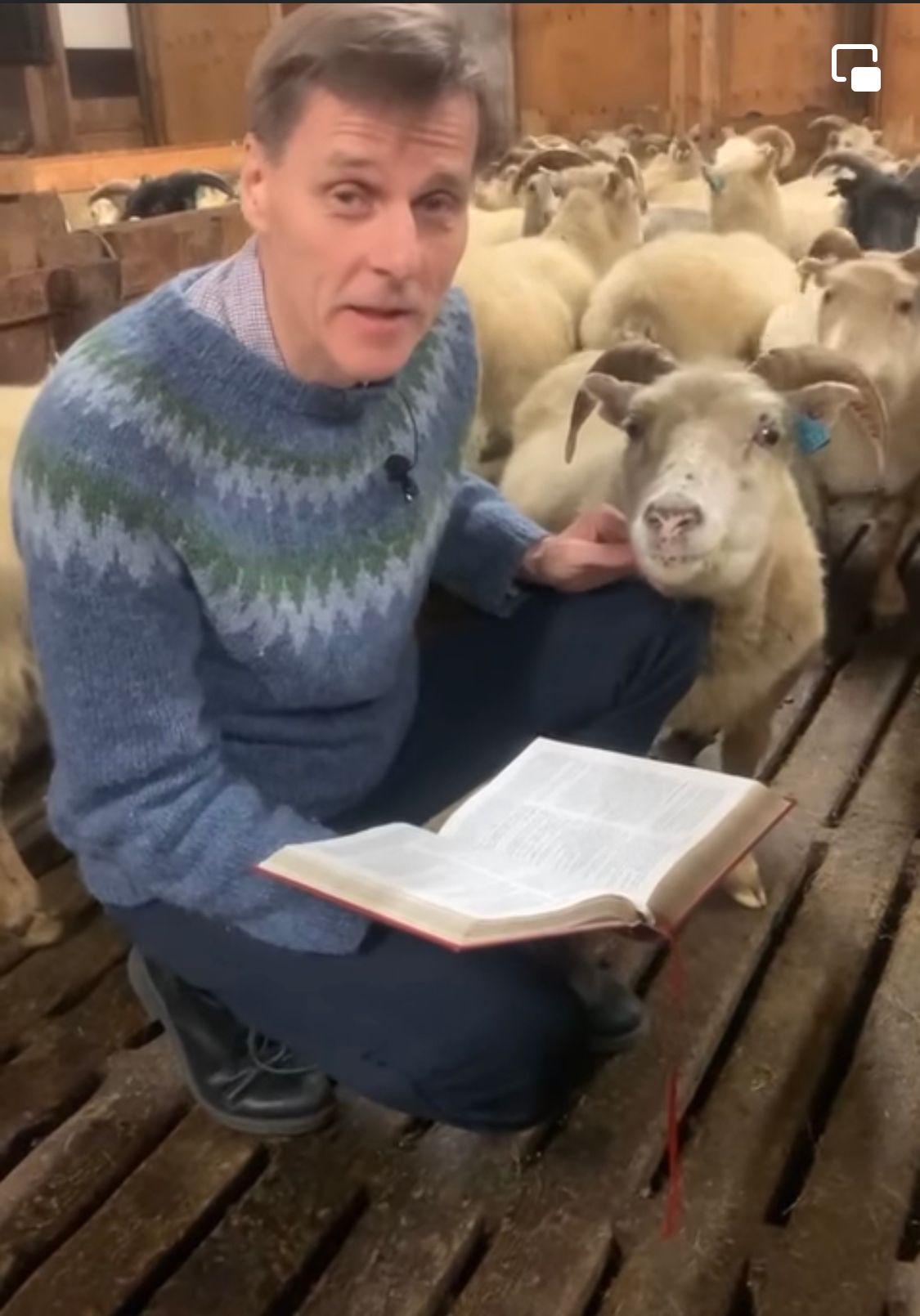 Greetings and happy New Year!
Since we last spoke, the sheep have been busy.
One of my favorite sheep-related people on Instagram is Pálína Axelsdóttir Njarðvík, better known as @farmlifeiceland. Pálína has made a name for herself by sharing gorgeous, funny, tender photos and videos of life on her family's sheep farm in Iceland.
Pálína's father is also a pastor. Over the holidays, when Covid restrictions prevented in-person church services, he did what any reasonable sheep farmer would do. He gave his sermon to the four-legged flock in the barn, and he shared a video of that sermon with his other flock via Facebook.
The tenderness and mutual trust in this brief video is heartwarming. I thought you might like it, so I'm sharing the video here with permission. Pálína tells me he was reading the nativity story from the Bible. The link below will take you to the video on Facebook.
Meanwhile in Germany...
On Monday, some 700 sheep and goats came together in a field south of Hamburg, Germany, to form a 330-foot syringe. The project was an attempt to reach those who remain vaccine-hesitant in Germany.
Sheep were chosen because "sheep are such likable animals," organizer Hanspeter Etzold told the Associated Press. "Maybe they can get the message over better."
The animals were easily corralled into shape by the use of their favorite motivator: food.
And Finally...
In this week's episode of Truth(ish) in Advertising, we look at the Womens Composite Merino Mock Neck from Ministry of Supply. This "elevated everyday staple" is "crafted with ultra-soft washable Merino wool for resilient stretch and long-lasting performance." The marketing copy further notes that this top is made of "soft-spun washable wool" that's been "reinforced with polyester for durability and shape retention."
If you dig deeper, you find that the actual fiber breakdown in this mock neck is 82% recycled polyester, 14% Merino, and 4% elastane. So, it's really polyester that's been reinforced with wool for a very basic bit of warmth, moisture management, and flame retardancy.
Always check the label.
See you next week!
Comments