The Hoodie Conundrum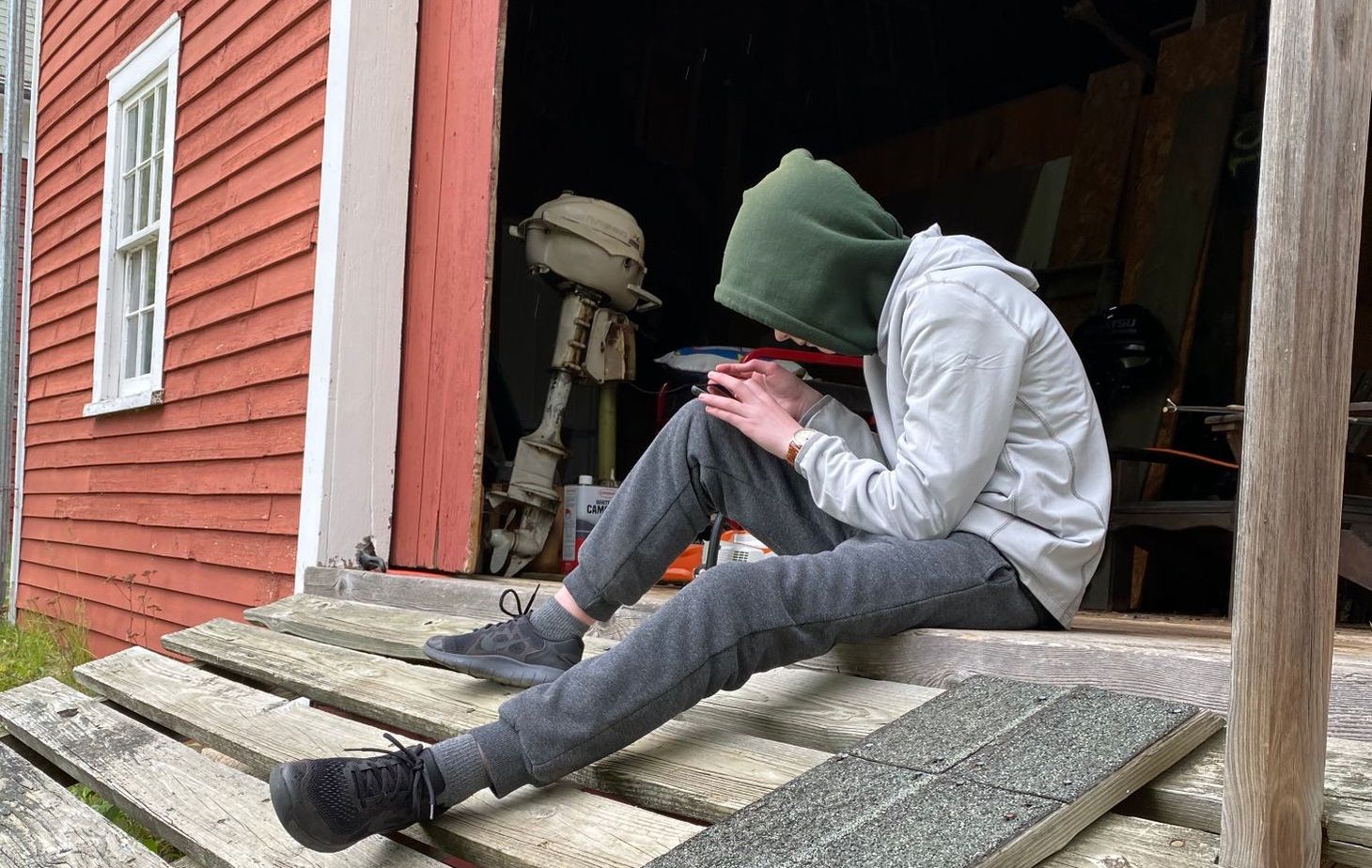 It was a chilly, drizzly Memorial Day weekend here in Maine. While many visitors stayed away, my brother loaded his family in the car and made their annual pilgrimage up from Boston. They drove five hours each way so they could enjoy 48 hours of off-the-grid tranquility in an unheated farmhouse among the black flies, ticks, mosquitoes, and abundant raindrops. Ahhh, Maine.
On Saturday, after a wet walk through the woods, we returned and huddled around the wood stove in the kitchen.
I, of course, was fine. I'd worn wool socks, wool leggings, wool underwear, a wool undershirt, a thick wool sweater, and even a wool scarf. The only things that weren't wool were my rubber boots and raincoat. (One day I'll change that and get a wool raincoat, yes, they exist, but for now I'll make do with what I have.)
I glanced at my two nephews, both in their early teens, both clad in just sweatpants and hoodies. Both visibly cold. Cause and effect, right there.
They saw me staring and knew what was about to come. The Wool Lecture.
My youngest nephew headed me off at the pass. He pointed to his sweatpants and said, "These have wool in them."
His mother and I looked up quickly. What is this?
"Yeah," he said. "They have a fleece lining. That's wool, isn't it?"
The only thing more powerful than the pain of that comment? The joy of knowing that my own flesh and blood is developing such a fine sense of humor. He's heard The Wool Lecture enough times to know how to get me.
But it got me thinking about a consumer segment that could use more in the way of wool: clothes for teenagers. Especially teenage boys. I went to fast-fashion retailer Aeropostale and searched on the word "wool." A few girls' sweaters came up, $11 things made of 95% plastic and a paltry 5% wool that wouldn't keep them alive in a snowstorm and certainly wouldn't prevent the sweater from igniting in a fire.
But boys? Nothing. Their world is cotton T-shirts and polyester hoodies and sweats whose only distinguishing features are their logos.
In what parallel universe will we be able to clothe our teenagers in warm wool while also meeting their most tender and urgent need to fit in? My nephews' clothes may be protecting them from the slings and arrows of outrageous teenage peer pressure, but they aren't acutally protecting them, physically, from much else.
I brought up the recent tragedy in Gansu Province, China, when a freak storm hit during an ultramarathon and 21 elite athletes died from hypothermia. While a windbreaker or warm base layer had been recommended, the only mandatory piece of protective equipment the athletes had carried with them was a reflective plastic emergency blanket. The winds made holding onto the blanket nearly impossible.  
My nephews can roll their eyes at me when I launch into The Wool Lecture, but this was one moment when they, too, had to agree that what's in our clothing actually does matter. It can mean the difference between life and death—even if it's just a somewhat improved chance at life. I don't know if any of the athletes had been wearing wool, but I do know that six runners were saved by a shepherd.  
Ironically, wool sportswear is easy to get. It's probabaly the most common form of wool clothing out there right now. Several well-known international brands make a point of showing slender, muscular 20-somethings running up hills and rappelling off mountains while wearing skin-tight, wool-blend, high-performance active gear. (That's code for "clothes.") It's one of my pet peeves, in fact, since running up hills and rappelling off mountains isn't my main activity but I, too, want wool clothing.
Back to our teenagers, to their needs for cool inconspicuousness and our need for them to be protected. How can we clothe our younger humans in fabrics that will protect them from the elements and also from humiliation by their peers?
What if the wool were camouflaged? I looked for hoodies and sweatpants that looked sufficiently cotton/poly bland but actually had some wool in them too. I discovered that Smart Wool has a kids' line, albeit a tiny one with just five styles—but they max out at an XL of a 32-inch chest, 89 pounds, or age 14. No hoodie to be found.
From here, I wandered over to men's clothing. Ibex has a men's hoodie sans pockets for $160, but teenagers need pockets to complete their sulk posture. I found one from WoolX avec pockets for $175, as well as a super heavy-duty one that looks right but costs, wait for it, $210.
Sweatpants are much harder to find. The current option below the waist, both for men and women, tends to be styled like long johns. And if there's one thing that says "put another quarter in the therapy jar!" it's giving a teenager a pair of tight long johns to wear to school. Finally I found a pair of cotton sweatpants with 12% wool, but they cost $148. To go with the $200 wool hoodie. A bargain, and we haven't even added shoes or socks or a T-shirt to the mix.
We can't put wool in our kids' clothes without also acknowledging, and finding a way across, the cost barrier.
As adults our size doesn't change as much, pandemic year notwithstanding. It's somewhat easier to justify a splurge since we know we'll be able to wear it for a long time. But kids and teenagers are works in progress. If 40% of Americans struggle to come up with $400 for an unexpected expense, we can't expect the mass consumer market to throw down $200 for a kid's sweatshirt.  
I want wool in all closets and on all bodies, as it was until just 70 years ago. Before plastics, wool wasn't so much a luxury item as it was an understood necessity. What will it take to put these fibers back into our clothing at a price more people can afford? It starts there, and it starts as soon as we start wearing clothing. I see that Target has partnered with Woolino to sell their Merino baby sleep bags ($99.99) and swaddle blankets ($39.99) online. You won't be able to see or touch these in stores, but it's still a start.
Young humans deserve to be protected as they go out into the world, and at a cost that is accessible to many, not few.
Comments