The Wool Wire | August 24, 2022
The fight to save Casentino cloth, plus wool packaging and the circular economy, Morgan Kurz's wool bike clothing, NZ millennials choosing wool home flooring, Wyoming's Wool Initiative, Appalachian coal mines reclaimed for sheep farming, and Pendleton Woolen Mill tours
News snippets from the wool world
Greetings, wool people!
We have officially made it past the dog days of summer. Yes that's right, the dog days have a schedule—July 3rd to August 11th—that correlates to the constellation of Orion's dogs in the summer sky.
Which begs the question, where are the
sheep
constellations? Why should Orion and his dogs have all the fun?
Actually, they don't. We
do
have sheep in the sky. There's the constellation of
Aries
, which contains the star
Hamal
(or "
the lamb
"). But I digress.
Back here on planet Earth, the wool world does not stop for anything—not even dog days or hot weather. In this issue we learn about an historic Italian woolen mill in peril, then we get updates on insulated packaging innovations, wool carpets, environmental footprint methodologies, Pendleton Woolen Mill tours, and much more.
Enjoy!
Since the 14th century, Casentino cloth has been valued for its beauty, durability, and even waterproof qualities. Florentine nobility prized it. Verdi wore it, as did Audrey Hepburn in "Breakfast at Tiffany's." After two nearly disastrous years, the last remaining mill to produce Casentino cloth—the Manifattura del Casentino—has seen orders triple this year. In a painful twist of irony, that same mill now faces eviction by the building's new owner, Italian data center company Aruba.it.
---
Eco-Sustainable Wool Felt Packaging
So much of the world's wool may never make it onto our bodies, but that doesn't make it any less useful. We continue to see advancements in the use of coarse grades of wool in packaging. Here's a tidbit on one such innovator, the Australian company Planet Protector.
"Founded in 2015, Planet Protector has been in the race to become the market leader in thermal packaging that doesn't harm the planet. Planet Protector manufactures Woolpack packaging using non-textile grade, coarse wool. The fibre's outstanding insulating properties are superior to polystyrene and perfect for keeping the temperature of food, seafood and pharmaceuticals stable during transportation." (full article)
Wool packaging still costs a bit more than bubble wrap and other non-biodegradable shipping materials. Retailers, if you're interested in shifting to wool but can't quite absorb the full cost yourself, consider adding a "wool packaging" option during checkout and letting your customers decide. Even if they don't choose it at first, you've planted a bug in their ear for next time.
---
The study (which you can download here) makes a cradle-to-grave assessment of the use of a recycled wool blend sweater compared to a non-recycled equivalent in terms of its impact on climate change and use of fossil fuels and water. The results make a very clear argument not just for using natual fibers but specifically for recycling them—noting a reduction of between 66 to 90% compared to a virgin pure wool sweater.
On a larger scale, the results underline the need for the EU to update its PEF methodology to better reflect a product's full life cycle. As Dalena White of the IWTO writes, "The inherently circular attributes of products made from natural fibres like wool, such as renewability at the start-of-life, high levels of reuse and recycling during life, and biodegradability at end-of-life, are not counted or only minimally so." Let's hope the EU listens.
---
Think the wool garment industry is only for big players? Think again. Here's a great profile of someone who is making great strides on a scale that works for her.
"Morgan Kurz is a 28-year-old artist and mountain biker who runs a one-woman shop currently based in Steamboat Springs, Colorado, where she handmakes mountain bike clothing from wool, hemp, and other natural fibers..." (full article)
---
New Zealand Research Shows Millenial Shift to Wool for Home Flooring
Here's some more good news about shifting consumer perceptions of wool's cost and value.
"The nationwide Bremworth study, which has tracked changes in attitudes over the past three years, also shows the perception of wool carpet as having a higher cost, when compared to synthetic alternatives, is becoming less of a barrier for most consumers.
The new study found wool is increasingly recognised as environmentally friendly by over three quarters (77 per cent) of those surveyed and sustainable by more than two thirds (69 per cent) of respondents."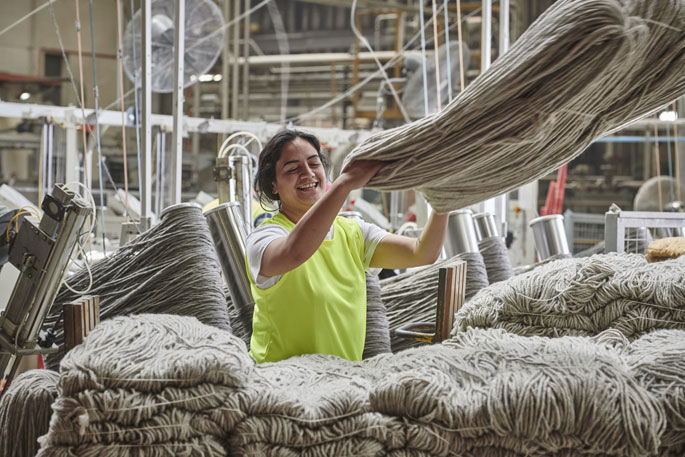 ---
Need a blanket? I think you do. Check out the University of Wyoming Sheep Program's Wyoming Wool Initiative and the UW Blanket Project, which is now in its second year.
---
As the country moves away from coal and toward renewable energy, here's an uplifting story about what could be done with all that unused, un-grazed land. Hint: It involves sheep.
"Before King Coal reigned in the Appalachian Mountains of Eastern Kentucky – and surrounding areas – sheep were a common sight. Patrick Angel hopes the small ruminants can be a part of reviving the region as the country moves away from coal as a primary energy source.
The retired forester and soil scientist for the U.S. Department of the Interior devoted a lifetime to reclaiming areas used for surface mining of coal, mostly in his home state of Kentucky. And when he looks at the seemingly countless acres of reclaimed Appalachian Mountains land stretching from Pennsylvania to Alabama and encompassing eight states, he sees a grazing mecca that might just rejuvenate the area and the American sheep industry at the same time." (full article here)
---
And finally, some good news for woolheads with wanderlust: Pendleton Woolen Mills has resumed tours of its mills in Washougal, Washington, and Pendleton, Oregon. The tours take you through the entire vertical operation from wool to blanket. Road trip, anyone?
As always, thanks for your readership and your support.
Until next time,
Clara
---
The Wool Wire is made possible by members of The Wool Channel. If you enjoy these emails and would like to dig deeper into wool and support the work, consider joining the Foundation Flock. And if you already are a member of the flock, thank you for your support!
Comments