The Wool Wire | January 25, 2023
From acoustic panels and house construction to seaweed farms, hydroponics, and bandages, we're celebrating what happens when government and industry and education come together for wool. Also, follow 10,000 sheep on their annual trek through Wyoming.
News snippets from the wool world
Greetings, wool friends!

This week's Wool Wire underlines the power of top-down investment in moving the wool conversation forward, thinking outside the box (or would that be baah-x?), asking that eternal question, "What would happen if we substituted wool in this scenario?"

I'll tell you what would happen: amazing, inspiring things.

Let's get started.
We begin in New Zealand, where a Wellington startup is now making acoustic panels out of wool. Not just any wool, of course, but New Zealand strongwool. The startup wasn't working in a void and left to fend for itself, by the way. It had solid financial support from the government.
"...the panels provide a sustainable and more environmentally friendly alternative to existing products.... We're excited for our sheep farmers to have a new high-value, innovative product on the market made from strong wool. Innovations likes these will help them maximise their earning potential."
---

I have enough wool in my house to merit claiming that it's a wool house—and I know many of you do too. But now, an interdisciplinary research team in Pennsylvania is working on making that joke (and dream) a reality. They're using biofabricated materials to replace the basic construction building blocks that often end up in landfills. And wool plays a big role.
Imagine you're standing in an outdoor pavilion, one that's similar in design to a covered picnic area at a local park or an amphitheater, only instead of support columns made from concrete, wood or stone, this structure is propped up by what appear to be posts of crocheted wool. Above you, a vast expanse of undulating roof is made of the same knitted material. Fungus coats this wool frame, forming the walls and the ceiling, not unlike the way plaster might cover the wood framing of a wall.
This is the premise of an experimental material known as MycoKnit. "We're trying to make an all-fiber building," says designer Felecia Davis, an associate professor of architecture and a lead researcher in the Stuckeman Center for Design Computing at Pennsylvania State University. She is part of an interdisciplinary team testing how knitted materials, such as wool yarn, might function as the framing for a building while a mixture of straw and mycelium fungus embeds itself onto this knitted fabric to create the rest.
---
The Woolmark Way

Again and again, Australia shows us what's possible when you have a deep budget and a whole wool-growing country behind you. Woolmark is funded via a tax levied on each bale of Australian Merino that is sold. This money doesn't just buy ink cartridges for some remote office, either. It goes for geeky, high-profile innovation.
The latest Woolmark win? They've succeeded in getting Merino into the uniforms for Nissan's Formula E racing team as well as America's Cup. The presence of wool in these uniforms is both a no-brainer and a huge, huge win in terms of reshaping people's perception of wool after decades of incessant bashing by polyester peddlers. Here's another news bit about those Formula E team uniforms.
While Woolmark's focus is on Merino, any positive shift in public perception of wool is a win for us all.
On the promotion front, Woolmark is reaching deeper into the Indian consumer market by sponsoring educational programs and design competitions for high schoolers in India. It's part of Woolmark's Grown in Australia, Made in India campaign.
The campaign highlights Merino wool's farm to fashion journey from Australia to India and supports both the Australian wool industry and the Indian handloom market. It intends to link people involved in the wool supply chain, including brands, producers, and the Indian government, as well as give customers.
---
More research! This time we're in Scotland, where researchers are investigating wool's potential to replace the plastic rope currently being used in seaweed farms. The win is twofold: first, it would give a boost to seaweed farms, which are being heralded for their potential to improve water quality and mitigate the effects of ocean acidification; and second, it would remove plastic (and marine plastic pollution) from the equation. Oh, and third, it would give another market for wool growers.
A team at the Royal Agricultural University (RAU) in Cirencester discovered whole ecosystems on the wool when left underwater. It is hoped their discovery will provide one solution to the problem of marine plastic pollution. Wool rope could also provide new income for sheep farmers, the researchers said.
---
Let's move on to Wales, where they, too, are working to maximize the potential for their domestic wool.  
Led by Anglesey social enterprise, Menter Môn, "Made with Wool" is a partnership with British Wool, The Wool Testing Authority (WTA) and Bangor University BioComposites Centre.
Its aim is to make a difference to farmers and producers by developing innovative ways of using wool as a renewable material.
The prototypes to be revealed at the show, include a composite product, sound insulation solutions and a hydroponics system.
Do we have a similar type of partnership that pulls together government, industry, and university support in the United States? I'll keep digging.
---
This year, 143 lambs were sent to college. Not to get their diplomas, but as part of the University of Wyoming's inaugural Lamb-a-Year class, a hands-on, one-credit course that introduces UW students to the lamb production industry.
In addition to feeding, weighing and checking the lambs throughout the semester, students have the opportunity to engage with producers, direct marketers, lamb processors, and feed and pharmaceutical company representatives.
Thanks to the generosity of 25 Wyoming producers and NexGen Feed Solutions, 143 lambs, 10,000 pounds of feed and several cash donations have made it possible for UW students to learn firsthand about the feeding, finishing and harvesting stages of lamb production.
Getting students exposed to and excited about raising sheep is critically important if we are to prepare new people to step into the roles being vacated by the previous generation.  
---
Exciting news from New Zealand innovator Woolaid
Earlier this month, a New Zealand wool upstart won Product of the Year at the fifth-annual Outdoor Retailer Innovation Awards.  
The company is named Woolaid. I've been tracking them for years. And after a few false starts, they finally appear poised to hit the US market in style. If their "coming soon" promise comes to pass, you'll be able to buy these adhesive wool bandages at REI in the not-too-distant future. I've used them, and they are extraordinary—especially for things like blisters. They wear well, they let your skin breathe, and they give wounds everything they need to heal.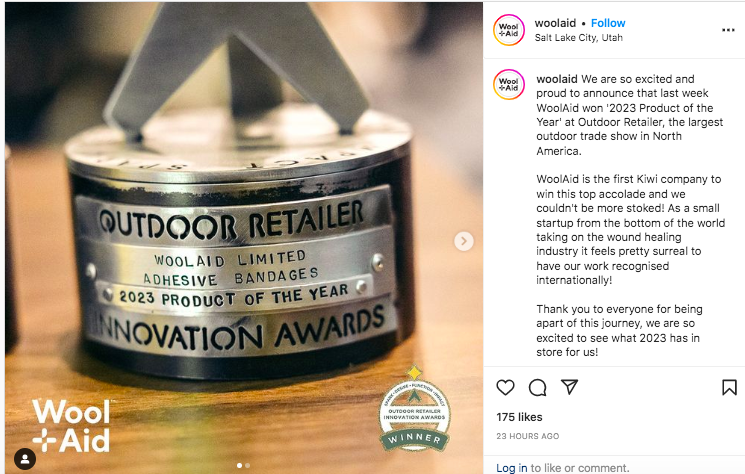 ---
After years of closures and offshoring, I am thrilled to see someone bring back domestically grown and manufactured wool rugs. The long-staple wool in these rugs is sourced from a small group of farmers in the northeastern United States before heading to the Carolinas to be scoured and transformed into the finished product.
The wool for these rugs comes from a group of small farmers spread out among upstate New York, Pennsylvania, and Vermont ethically raising sheep. It's more durable and softer than traditional options, making it ideal for rugs. The total path from farm to production is around 1,000 miles, significantly less than the overseas routes of most goods.
---

In case you needed any more proof that wool is once again gaining a foothold in our collective culture, this month Washington Post ran a gorgeous piece featuring the photography of Alex Benja. For the last two years, Benja has accompanied a group of Peruvian sheepherders and their 10,000-sheep flock as they make their 300-mile transhumance across Wyoming each year.
Best of all, while readers ooh and aah at the evocative photographs, they're also learning some compelling facts and statistics about the plight of wool and the reality of Peruvian sheepherders in the United States.
On that note, I'll let you get back to your day. For those of you in northern climes that are finally starting to get snow, don't forget to pull out your woolen blankets and sweaters and give them a good snow bath.
Thanks as always for your readership and your support.
Let's talk again soon,
Clara
Comments