Walking the Floor Over Ewe: Wool Dust Mops
When it's time to clean your floors, consider wool.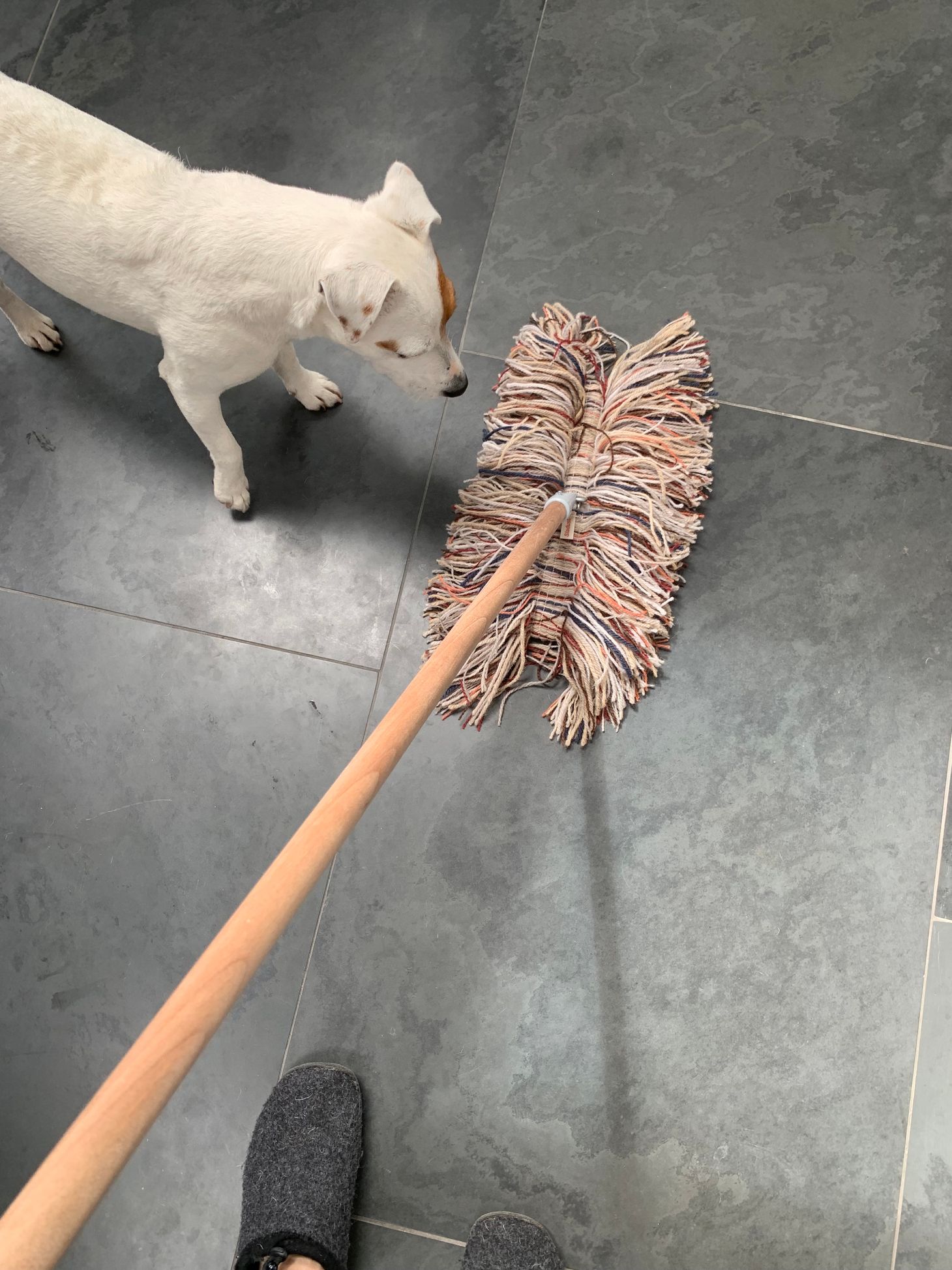 Can it really be true? Is there such a thing as a dry mop made from woolen yarn? Does it work? Contributor Rachel Atkinson takes the Sladust Wool Dust Mop out for a spin.
Hello, wool friends!
Spring cleaning may come once a year, but our floors require more frequent attention—especially if you share your home with a small dog who isn't supposed to shed but
does.
Which describes the domestic situation chez
Rachel Atkinson
, owner of
Daughter of a Shepherd
.
While looking for an environmentally friendly way to keep her beautiful new floors clean, Rachel discovered the existence of something called a "wool mop." And that, my friends, is when the adventure really began.
Take it away, Rachel!
When you look up shedding characteristics of the Parson Russell Terrier its description reads: very minimal shedding.
In our experience this isn't exactly true. Our little darling DeeDee sheds from January through to the end of December with increased seasonal shedding in spring and autumn. Whilst her fur is short and easy to maintain, it drops everywhere! Give her a fuss or a pat and even more sheds. When she does a head-to-toe shake, the air around becomes a cloud of hair. For a smallish and smooth-coated dog we are constantly amazed by just how much hair she produces.
We're not the greatest housekeepers, so anything that makes cleaning quicker and easier is fine with me especially, as I have what can only be described as a really horrible rheumatoid condition that intermittently affects my mobility, balance, and hand grip—thus giving me multiple excuses not to do the cleaning.
How It All Began
Several years ago, my partner and I bought a fixer-upper which, as is often the case with these things, turned out to be in need of far more fixing up than first expected. Throw a global pandemic into the mix and it has been a long, slow process. But we finally had the downstairs floor laid. With it came a new cleaning regime.
Having opted for a dark stone floor throughout, we soon realised just how much dog hair and dust was floating around. I decided to look for a Swiffer-type product with which we could zip around the house daily.
There are so many on the market, but I don't like their throwaway nature and the man-made microfibre accessories they tend to require. Plus you often need a separate bottle of cleaning fluid, which is bringing more plastic and chemicals into the mix.
Wool to the Rescue
While searching online I happened across something from a company called Sladust described as a "wool dust mop," which of course immediately grabbed my attention. I dug a little deeper, and it turns out these are a traditional and old-fashioned cleaning tool.
A further search for "wool dust mop" brings up a whole range of mops and dusters described as "wool" that turn out to be made of cotton, cotton blends, or polyester yarns. The truest wool mop I could find was a polishing head used for finishing metal jewellery. So I returned to my original find.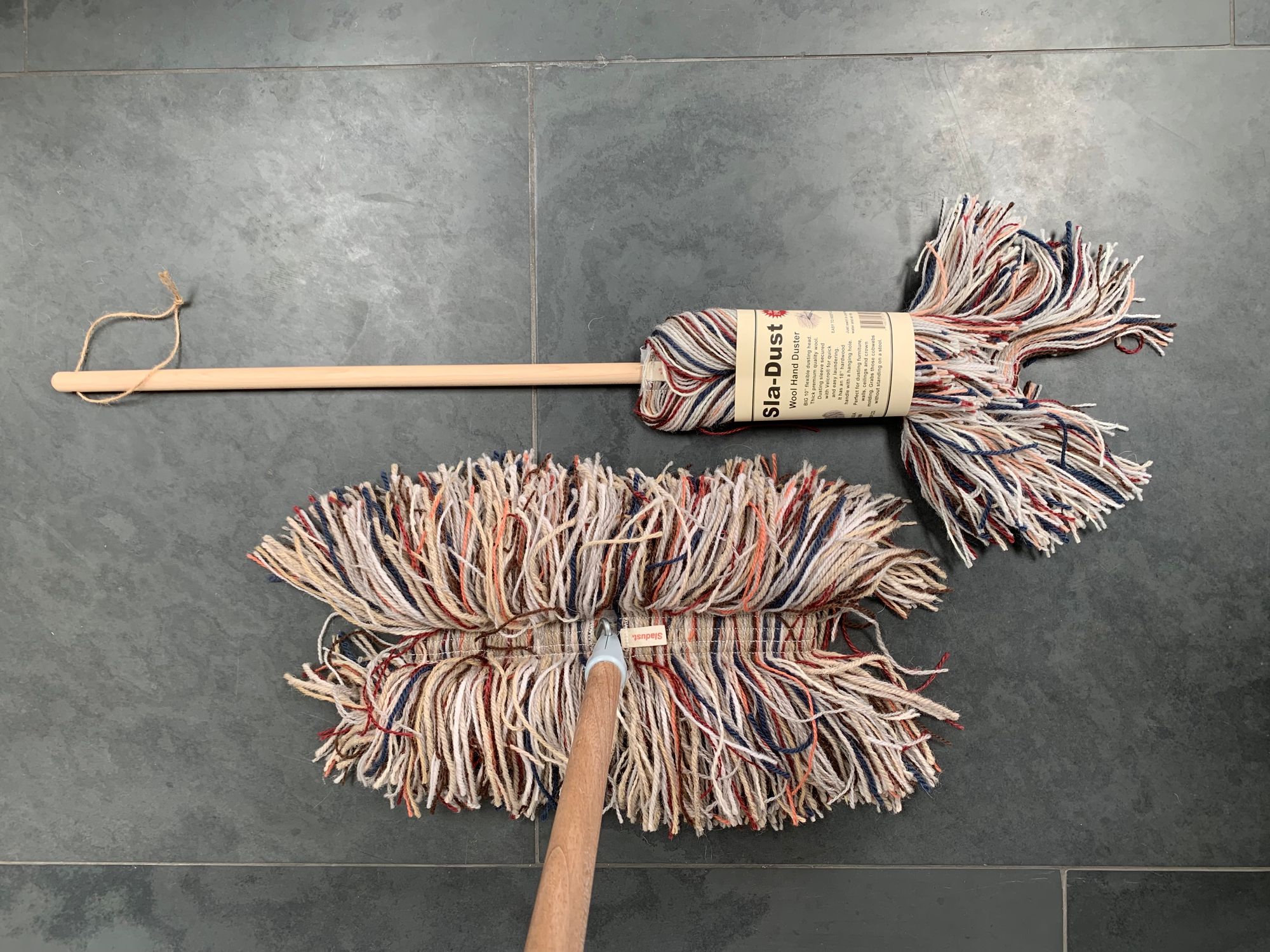 The Sladust Story
Sladust is a family-owned company based in Woodstock, Vermont, that has been handmaking their wool mops and dusters since 1909. The website states that all materials are sourced within the U.S., and, yes, they are 100% wool. The natural lanolin in wool helps the mop pick up dust and pet hair on smooth hard floors without the need for additional cleaning fluids.
At this point I'm still like, really? But I can see the logic.
Online reviews applaud the unrivalled pet hair cleaning ability, and I figured it was worth a go. I purchased the Big Wooly and Wool Duster combo with wooden handles ($71.98) through the Sladust eBay store for a total of $113.53 (£87.50) including all import tax and shipping costs—meaning there were no extra duties or charges to pay before delivery, which took less than two weeks to the UK.
You can choose a wooden handle or a telescopic metal and plastic handle, which would be useful for working from different heights. I opted for wood, which is comfier on my hands.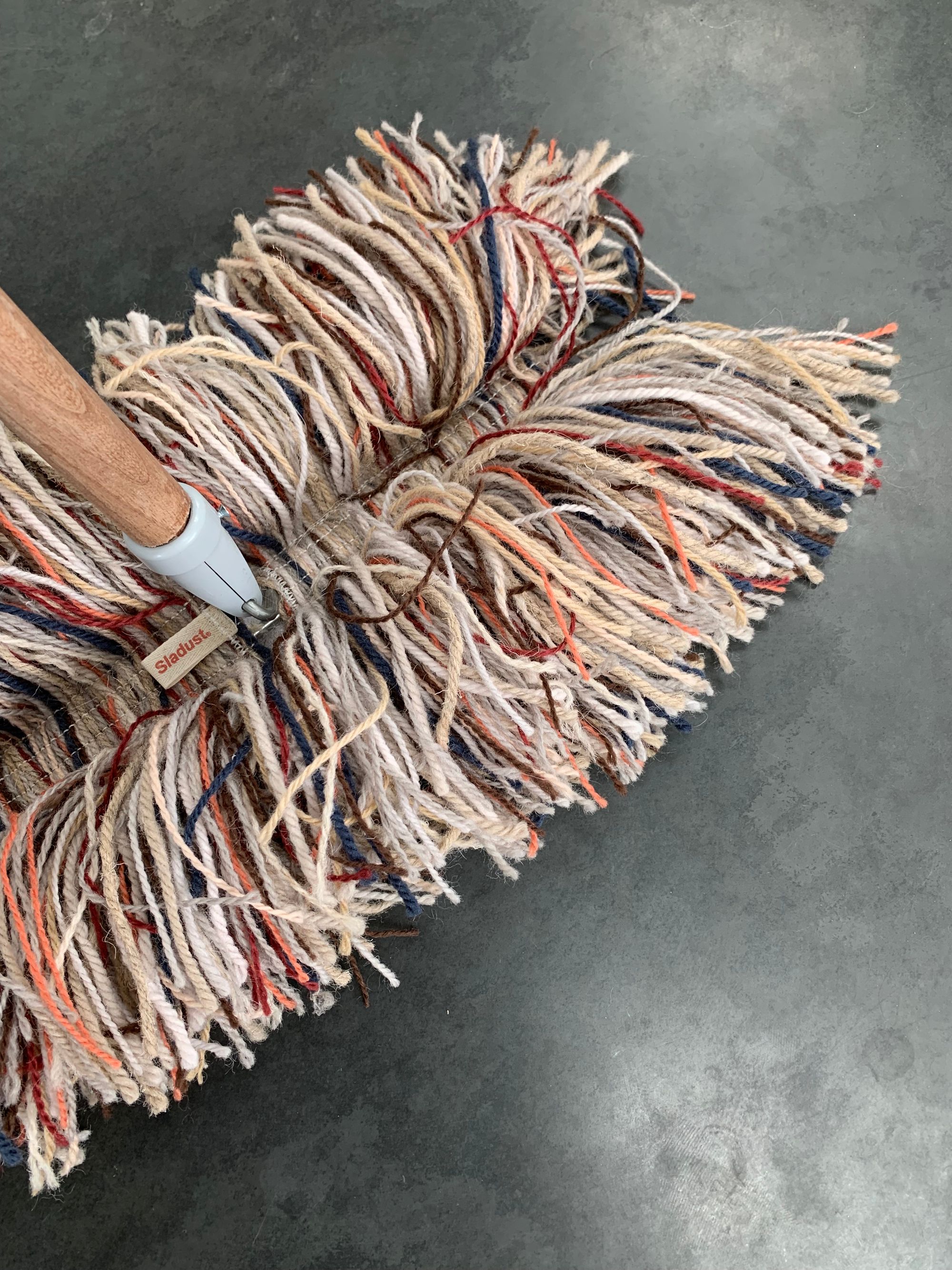 Read the Label
It's worth taking a minute to read the big flappy label attached to the top of the handle. Had I read it then I would have known to lightly spray the mop head with water to help the wool strands relax. However, I was so excited to get to work that I missed this stage. Thankfully it's not essential as the fibres naturally expand over time.
What You Get
The handle arrives separately from the head and is attached into a swivel connector on the mop head, which then tightens with an enclosed screw.
The mop head itself is constructed from 11" long strands of natural wool arranged in a neat 18" wide bundle, approximately 1" in thickness. Unlike its cotton cousins, the head is light and the swivel attachment makes the mop easy to manoeuvre. I was soon zooming around the floor, under counters, chairs, and sofas. Dust mopping has become a quick, easy task to do as the kettle boils for my morning cuppa.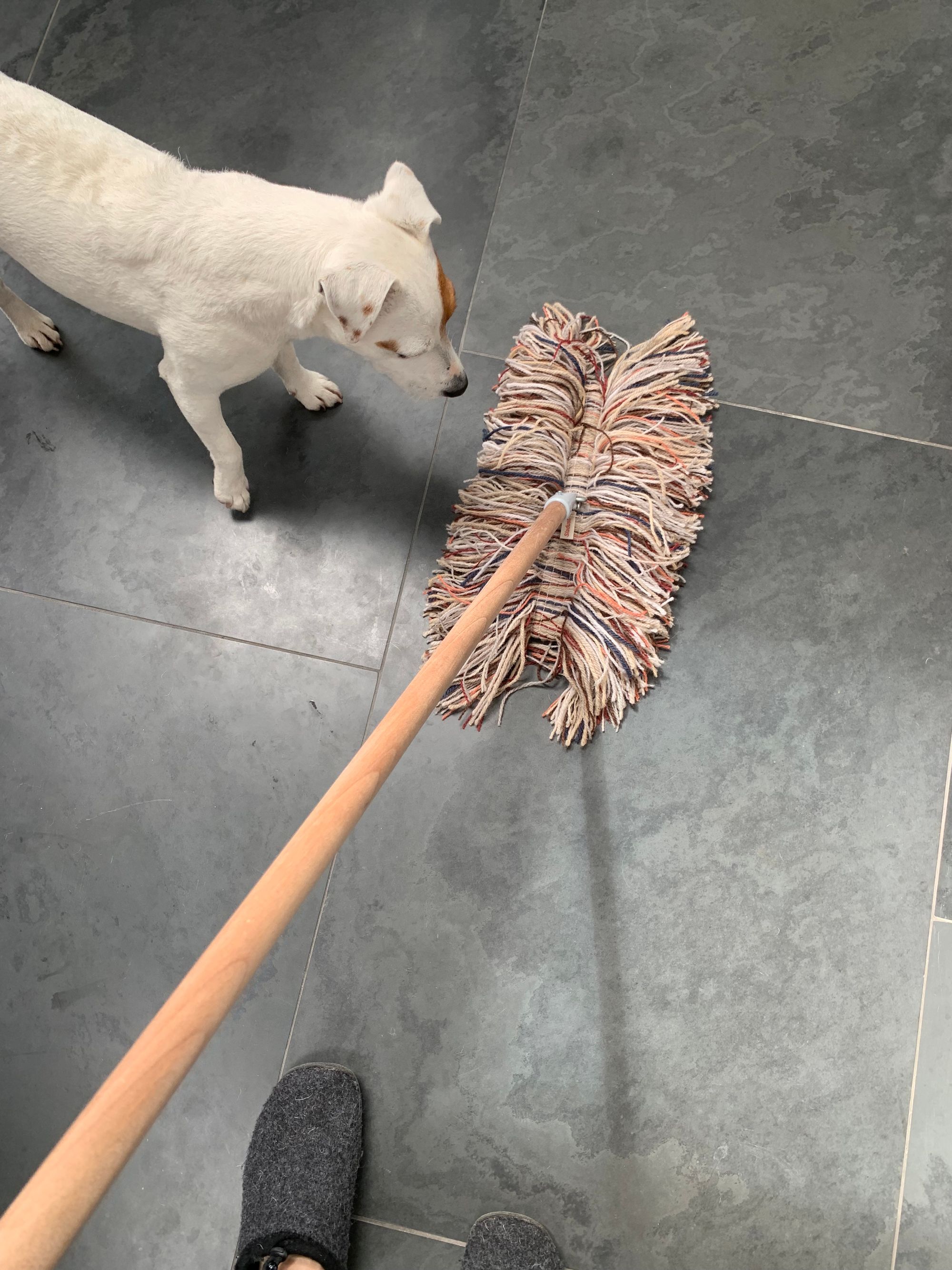 When the mop head needs washing, the Velcro backing allows quick removal from the metal frame. It can then be handwashed and left to air dry. Should the mop head wear out, replacements are available with the option to purchase a smaller, 9" wide head for more compact spaces. I suspect this would be a dream for dusting wooden staircases.
Doing the Dusting
Ours is the type of household that welcomes spiders. We often have a few long-term residents living with us, the latest being a bit of a character who dashes across the floor in the evening. They're great for keeping unwanted insects to a minimum, especially through summer, but it does reach a point where some have to be evicted and the cobwebs removed.
Several years ago I purchased a sheepskin duster which is fine for grabbing cobwebs but tends to move dust around rather than holding onto it. The Sladust handheld wool duster has, like its floor counterpart, proved highly effective at picking up dust along walls and around window frames, and perfect for reaching into the back and middle of our radiators.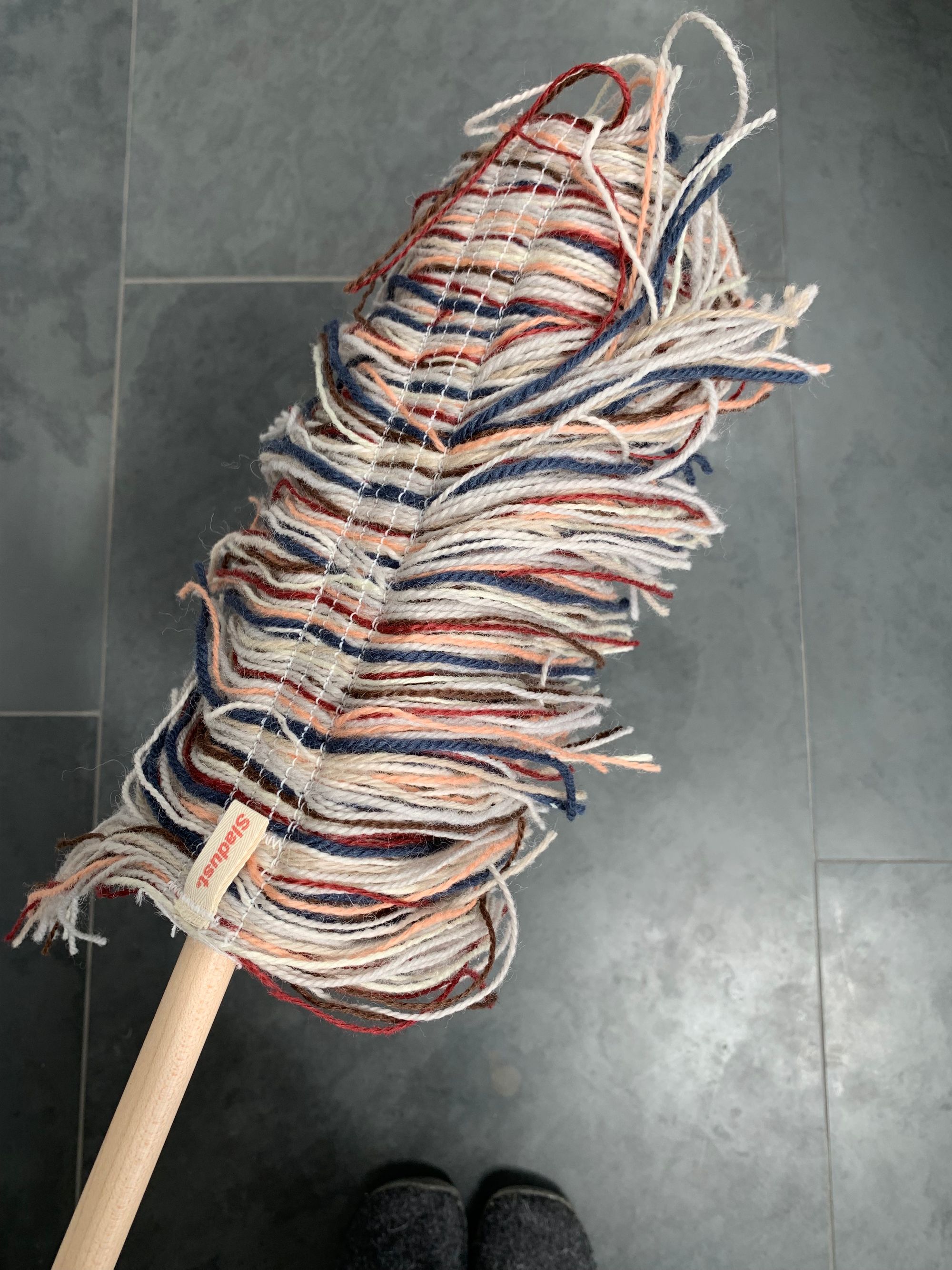 I can see the telescopic handled version in my future as it extends to 76 inches, so it would work well for light fittings, ceiling fans, and out-of-reach nooks and crannies.
Limitations?
It should be noted that while the dust mop is utterly amazing at gathering hair and general dust from around the house it is not intended to carry out an all-encompassing floor clean. A dustpan and brush are required to collect any little piles of crumbs swept up along the way. I still hoover once a week and use a steam mop for wet cleaning, but dust mopping has made these bigger tasks much quicker.
The price of the Sladust made it an investment. But compared with similar-ish products, plus the cost of floor cleaner and the ever-increasing price of power, it soon pays for itself. Honestly, I just love the low-tech nature of the dust mop. No noise, no smells, no batteries to run out on you midway through a chore, no grappling it in and out of a cupboard, and fitting three-dozen parts together before use. It's a simple, no-nonsense product that does exactly what it says it will with minimal impact on the environment. Plus it's made of wool!
The Mum Test
At the weekend Mum came for a visit. I saw her eyeing up the mop then asking if it was okay to have a go, and, when the same happened the next day, I asked her what she thought of it.
"It's great," she said. "Grandma used to have one."
It turns out that when Mum was growing up her mother had a similar mop for cleaning the lino in the upstairs bedrooms as it was perfect for retrieving fluff bunnies from under the beds. Mum recalled sick days off school with her younger brother and while waiting in bed for the doctor to do his rounds Grandma would whizz round with the mop making sure everything was squeaky clean.
"And then she" (Grandma) "would shake the dust out through the window, just like this," Mum demonstrated. Turns out it's just the same 60-some years later.
Technology moves so quickly these days, but good, simple, and effective design will always remain.
You can buy wool dust mops directly from Sladust. The site also has links to the eBay stores for international buyers.
This is an independent review and no payment in money or products has been received.
About Rachel
Rachel Atkinson is the owner of Daughter of a Shepherd and lives in a small village to the north of Oxford in England with her reluctant cleaning partner Dan and their "minimal shedding" terrier DeeDee.
Comments