A Metric Ton of Wool Socks? OK!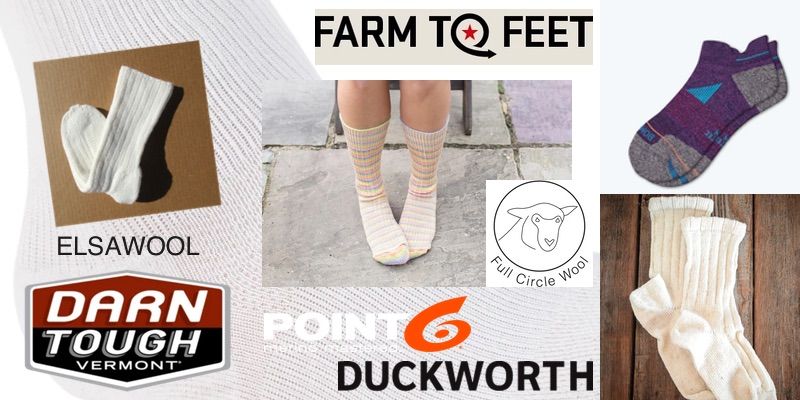 For those of you who aren't yet familiar with Noodle, he's a 13-year-old pug who Jonathan Graziano uses to determine what kind of day we're going to have. In charmingly narrated TikTok videos (and on Instagram), Graziano gently wakes up Noodle in his bed, gives him affectionate pats and scritches, and then lifts him to a standing position to see if he has any bones that day. Millions of people tune in.
Sometimes, Noodle promptly wilts back into his bed and it's a no-bones day, in which case we're urged to be extra kind to ourselves. But on other days, Noodle stands triumphantly. Graziano declares it a "bones" day and urges us to treat ourselves. Go on a hayride, he may suggest, or buy that TV you've been eyeing, or call someone and tell them you love them.
Why on earth am I bringing this up? Because on Tuesday, Noodle bravely brought us a bones day. And what did Graziano tell us to do?
"Invest in a ton of wool socks," he said. "I mean a metric ton of wool socks!"
Immediately, my inbox started dinging.
"Approximately how many pairs do you think that would be?" asked one person. "And where should I start looking for this metric ton of wool socks?"
Where to Wool
Let's assume, for a moment, that you won't be knitting this ton of socks. You're looking for commercially made ones. Where do you go?
Not all wool socks are alike, nor are their makers. Without further ado, here are my top five wool sock sources, spanning from the mass-produced to the artisanal. This list is by no means comprehensive, but I hope it'll give you a good starting point. Where possible I link to both the company's storefront and a directory of that company's retailers. If you can buy local, it'll save you (and the planet) on shipping and help keep money in your community.
Note that the first two vie for first place. I put Farm to Feet first because I heard the founder speak at the American Sheep Industry Association conference a few years ago and was impressed. But technically speaking, both brands make excellent wool socks.
1. Farm to Feet
In 2013, Kelly Nestle started this as a passion project that he spun off from his family's sock business, Nestle Hosiery. The Farm to Feet message—a 100% American sock—immediately resonated with consumers. Part of the charm is that Nestle is not only committed to supporting the domestic supply chain but he is totally transparent about it, from the sheep to the scouring to the yarn to the sock all the way to the paperboard wrappers and display cases in stores. It's all made domestically.
You'll find a ton of thicknesses and structures and shapes for men, women, and kids. However, I do have one caveat: The wool content in these socks can vary significantly depending on the style. Sometimes it's as low as 51%, other times it goes up to 72%. Check the details. Find a retailer near you or shop at the Farm to Feet store below.
2. Darn Tough
Meanwhile, in Northfield, Vermont, the Cabot family has been making Darn Tough socks since 2004. More than that, they guarantee these socks for life. I certainly love the pairs I have.
They come in a ton of styles and patterns for men, women, and children. As with Farm to Feet, you'll want to check the fiber content when shopping. Depending on which sock you're looking at, it may have anything from 38% to 79% wool. The rest will be nylon or spandex. Prices average $24 to $26. Find a store near you or buy from Darn Tough directly below.
2.5 Runners-Up on the Local Front
In the U.S., Duckworth and Point6 are also solid contenders in the pure domestic sock game. In Canada, Thermohair socks are a bit of an institution. These plush outdoorsy socks are unique in that wool has been swapped out for kid mohair, with 25% nylon for bounce and strength.
In the U.K., John Arbon's Exmoor Socks are local from sheep to finish. I brought home a pair almost 11 years ago and they're still going strong. And finally, The Yorkshire Sock Company's limited-edition luxury British wool socks are made from Bluefaced Leicester. (This company also makes socks domestically from imported Merino, as does Finisterre.)
3. Bombas
Here we go from domestically focused wool sock companies to a larger multi-fiber sock conglomerate that does a very good job of bombarding us with ads across social media. Bombas makes its socks in the U.S., China, Taiwan, and Peru. What makes this company noteworthy is that for every pair of socks you buy, they donate a pair of "essential" socks to someone in need. (I'm guessing the donated socks don't contain much of any wool, but that's a hair I'm willing to leave un-split.)
Within its broader offerings, Bombas has a men's and women's Merino collection with cheery to muted color options and patterns, in styles ranging from no-show to ankle to calf to knee to compression.
As with the others, you'll want to check the fiber content because none of these are 100% wool. Some go pretty low, such as the Merino Gripper House Sock, with its 31% nylon, 31% Merino, 29% cotton, 8% polyester, and 1% elastane. The Merino Ankle Socks, however, contain a generous 80% wool. Prices fall in line with the others, in the $22 to $26 range—not bad when you consider that someone else is getting a pair too.
Moving on...
So far I've shown you socks that are manufactured at a rather high volume, on high-tech equipment, and using a blend of nylon or polyester or Lycra as well as wool that's been treated for machine washability. In general, these socks remain in the range of $16 to $26 largely because they benefit from economies of scale. Now, let's look at the artisanal outliers.
4. Full Circle Wool
If you're willing to double or triple that amount, you can get something truly rare and special. Full Circle Wool (makers of the wool sponges) has come out with a limited line of very simple, very local socks. They're made from Targhee x Polypay x Rambouillet wool that's been sourced from a Fibershed-certified ranch, spun at a small mill in Wyoming, and knit on a circular sock-knitting machine in Petaluma, California, by a woman named Bonnie Reardon. They're priced nearly at cost and retail for $51.95 per pair.
5. Elsa
Last but very much not least comes from my wool mentor Elsa Hallowell. For decades, Elsa has been making extraordinary Cormo wool yarn and having that same yarn knit up into hats, scarves, vests, sweaters, and thick, plush, delicious socks in a range of styles and sizes.
Elsa sources her Cormo from one, extremely well-respected ranch in Montana whose wool I also used for several of my own yarns. She has a range of sock options from 100% pure Cormo all the way down to 74% Cormo and 26% nylon. As with the Full Circle Wool socks, these haven't been treated for machine-washability, so they'll be handwash only. Prices range from $28 to $36, and you could not possibly support a better human.
DIY
Looking for a more hands-on approach to acquiring your metric-ton of wool socks? Know how to knit, or want to learn? Few projects offer as great a satisfaction as the knitted sock.
I have an easy sock-knitting tutorial, and I also wrote a whole book on the subject. Your local yarn store will also be happy to set you on your path. In a pinch, you can also find tons of video tutorials online.
Get Cranking
Do you have grand ambitions and money to spare? A circular sock machine can get you closer to that metric ton than your needles ever will. They're tricky to master, and you still have to do fiddly hand work for the toes and heels. But the machine can save you loads of time and help you work through that yarn stash and make room for more.
A gorgeous new machine will run you well upwards of $1,000.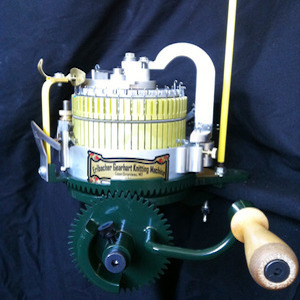 On the slightly more affordable option, there's a 3D printed circular sock knitting machine being manufactured by Dean and Bean.  
This is just the tip of the iceberg as far as circular sock-knitting machines. There's a whole subculture dedicated to antique, vintage, and used sock-knitting machines and replacement parts, should you choose to tumble down that particular rabbit hole.
Final Footnotes
Even if you have no intention of acquiring a metric ton of wool socks (or perhaps you already have that many in your collection?), I do hope that I've helped fill in the blanks and get you started on a successful bones day.
Comments