Booting that Polyester Fleece to the Curb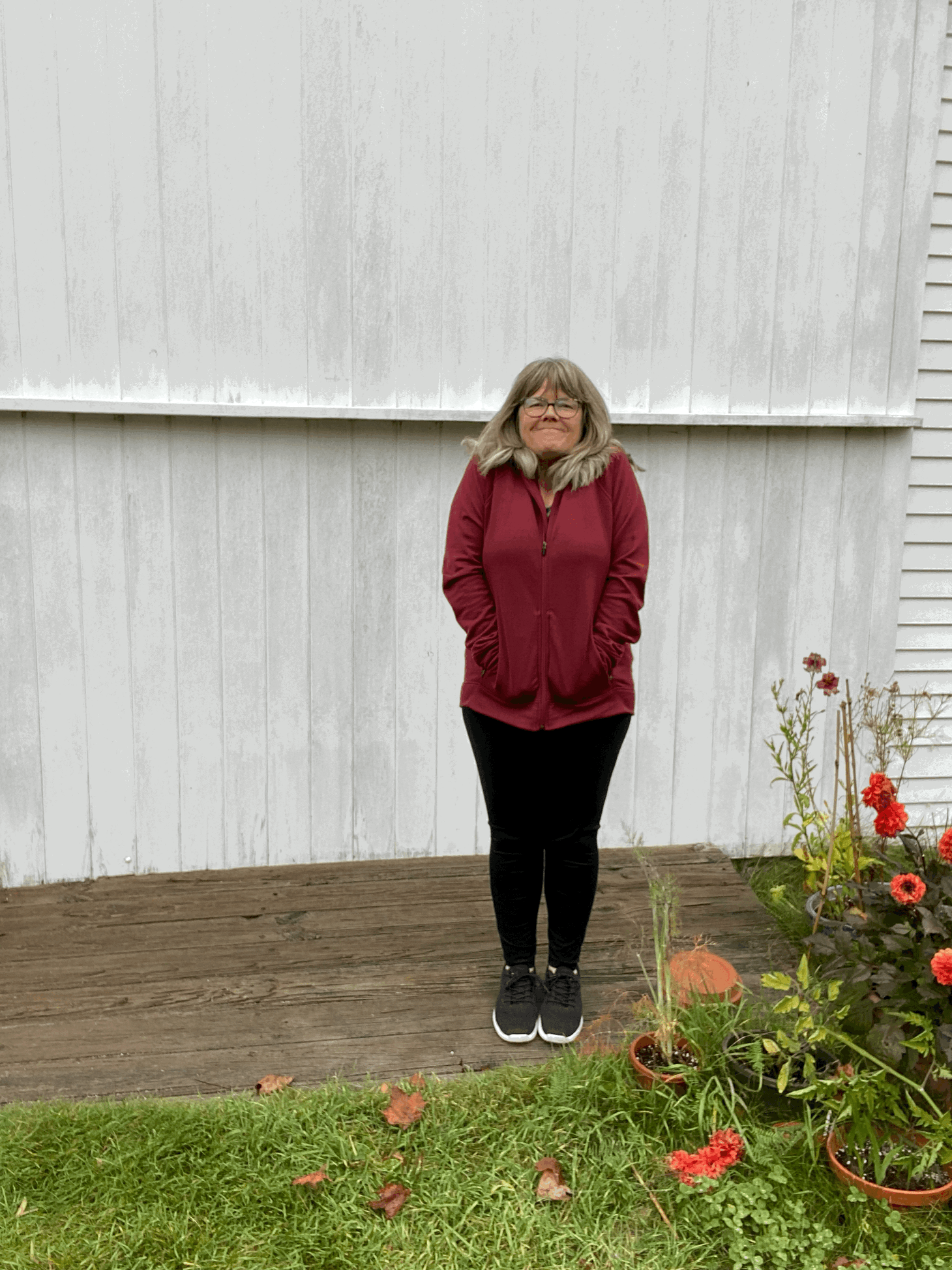 I love when my worlds collide. This week I received a text from an old friend whose name knitters and handspinners will recognize: Jillian Moreno. Jillian is smart. She knows everything about yarn and fiber. This time, she had a clothing question.
"May I impose on the depth and breadth of your woolly brain for my own shopping needs?" she began. My ears perked up immediately. "My last Patagonia fleece exited the house—stolen by the daughter. I want to replace it with a wool version. Which company (ies) should I look at?"
Well.
It just so happens that I've been trying out a fleece replacement this very week. My plan is to compare it with the new 100% Merino fleece sweatshirt being released (I believe today?) from Simply Merino in Canada. Since that one's still in transit, I'll tell you about this one first.
The Way of Wūru
This top comes from a young Utah-based outdoors clothing company called Wūru, which is the Māori word for "wool." Its founder, Matt, wrote a kind email of introduction and asked if he could send me one of their everyday Merino wool zip-ups to try. I have a hard time saying no to wool. With the understanding that this came with no strings or expectations or agreement, I said yes.
Wūru got its start with Blister Wool, inspired by Matt and his wife's trekking honeymoon in New Zealand. Their guides showed them how to wrap wool around their pressure points to prevent blisters. One thing led to another, and they returned home with a business idea. The Blister Wool comes in 0.75-ounce pouches and retails for $10.95. Which is about what R.H. Lindsay is charging for a pound of New Zealand Romney sliver for handspinners. But for those prone to blisters who don't mind paying a significant premium and don't need an entire pound of the stuff, this is genius.
Then Came Tops
I don't know the exact order of things, but a successful Kickstarter in 2020 got the Wūru zip-up off the ground. And that's what we're here to talk about.
It's made from 85% non-mulesed Australian Merino and 15% nylon that's been huffed and puffed and fluffed using Nuyarn Technology into what is marketed as the only true performance wool.
Them's fightin' words! Doesn't all wool perform?
As best I can tell, Nuyarn Technology uses high-tech wizardry to create woolen-spun yarn on steroids. Most of the questionably true "performance" wool outerwear on the market is made from worsted-spun Merino. It wears well and has great drape, but it lacks the loft and cozy poof that's usually provided by the woolen spinning system. Will the high-tech spinning wizardry help this fabric withstand abrasion? Only time will tell.
All the fabric creation takes place in Vietnam at a bluesign® and GOTS-accredited facility. The fabric is sweatshirt-esque, with a smooth jersey outside and a looped sort of terrycloth inside. But instead of cotton, they've used a tender 18-micron Merino on the skin side and a sturdier 21-micron Merino on the outer side. This fabric then travels to the United States where, unlike several other competitors (including Icebreaker and WoolX), the zip-ups are cut and sewn in Los Angeles.
The Runway Report
In terms of design, this is a raglan-sleeve, zip-up outdoorsy top. A hoodie but without the hood. Or, in Jillian's case, a fleece but sans polarfleece. Though it still has 15% nylon in it.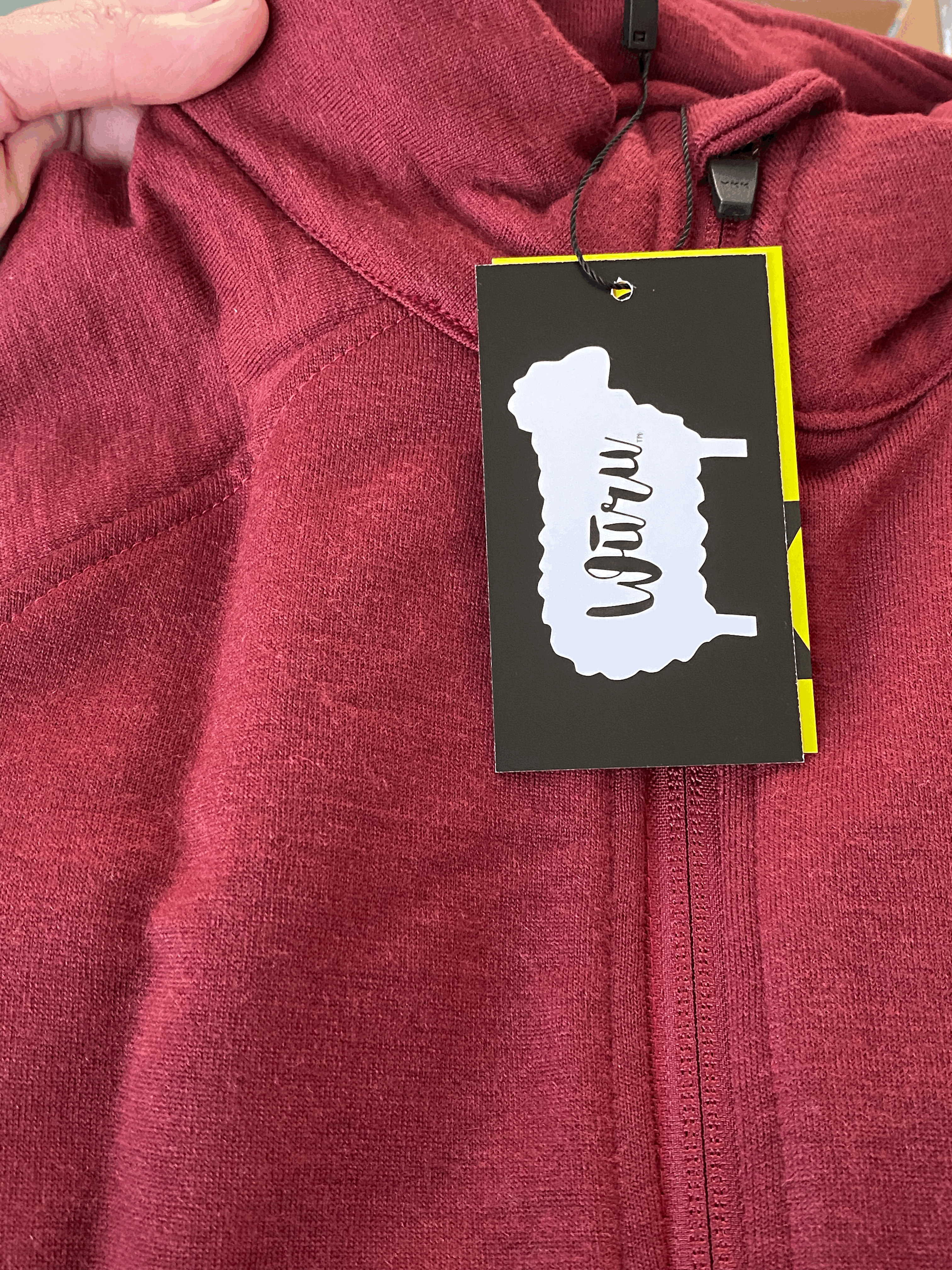 It has two zip-up front pockets and a breeze-blocking collar with a handy little flap that wraps over the top so that, when fully zipped up, the zipper doesn't irritate your neck. I like that touch. Everything on this is the same fabric, the edge trim is just doubled for thickness. There's a gentle swoop over the derriere for added coverage. And invisible thumb loops lurk in each cuff if you need them.
I didn't need them because I'm short. To get a top that fit my other measurements, I had to go with an XL that resulted in the whole thing being too long, borderline unflatteringly so. My vertically challenged compatriots may relate.
In terms of size, the zip-up top is available in sizes from XS to XXL, corresponding to a 32-45.5" chest and 30-43.5" waist. This cuts out a sizeable swath of potential customers and begs the question, don't clothing designers realize that women of all sizes enjoy moving their bodies in the great outdoors?
But I digress.
These retail for $195 and come in Dress Blue, Gray, Merlot (what I have), and black. I don't have any codes for you, but they do have a "15% off your first order" offer on their website right now.
Honestly, I feel like a bit of a fraud even writing about this because sporty outdoors clothing and I have never gotten along well. I do like this top, and I plan on wearing it this winter. And, it's so outside of my normal clothing zone that when I started to leave the house in it yesterday, my beloved asked, "Don't you want to get dressed first?"
Stay tuned to find out if the Simply Merino fleece elicits a similar response.
Comments