Booting Fleece to the Curb: Part II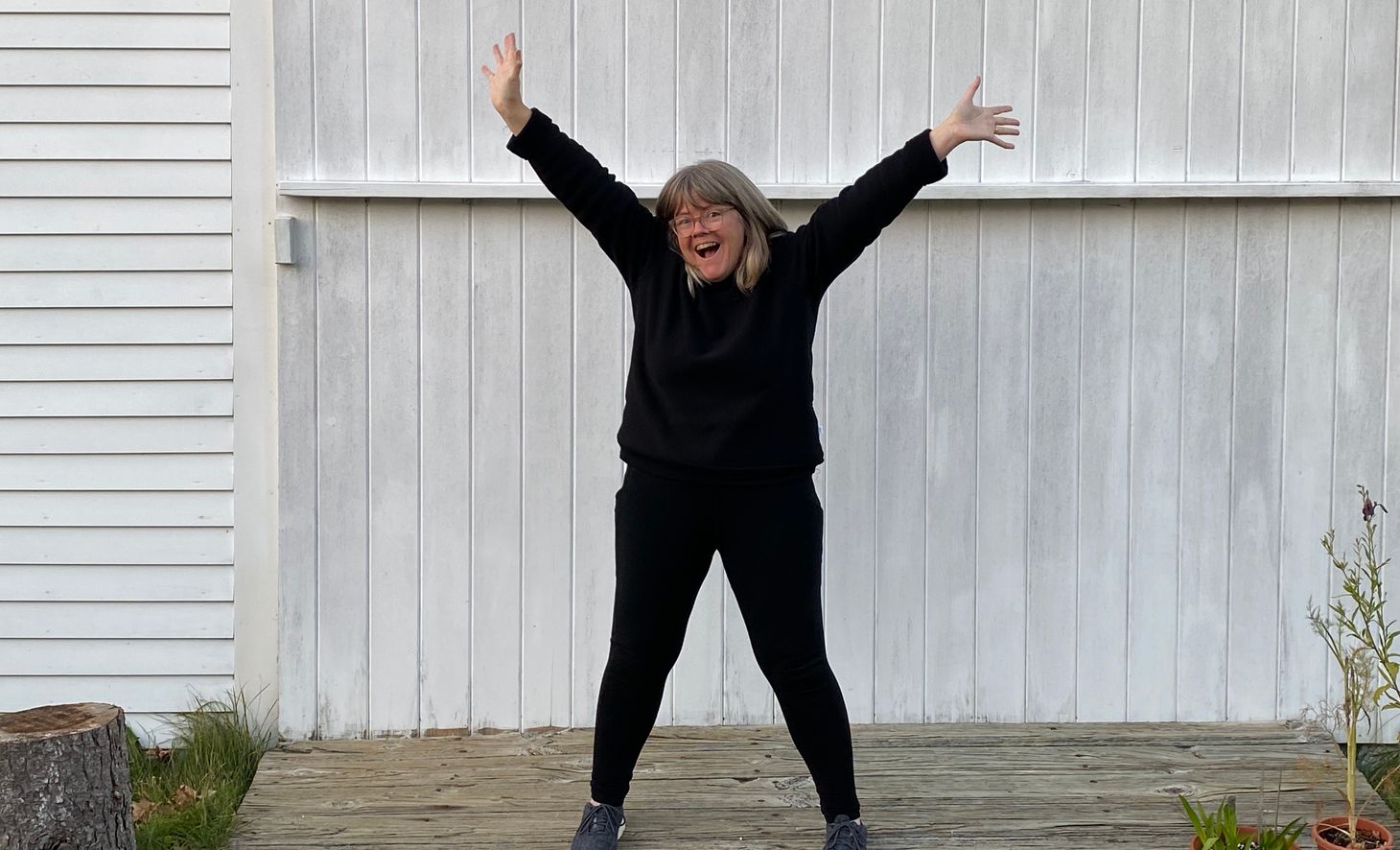 When we last talked about replacing polyester fleece with wool, I was waiting for another package to arrive from Canada. The package in question contained a brand new 100% Merino wool fleece sweatshirt from a small Vancouver-based company called Simply Merino.
That sweatshirt has since arrived and been put into rotation, and I am happy to file this report.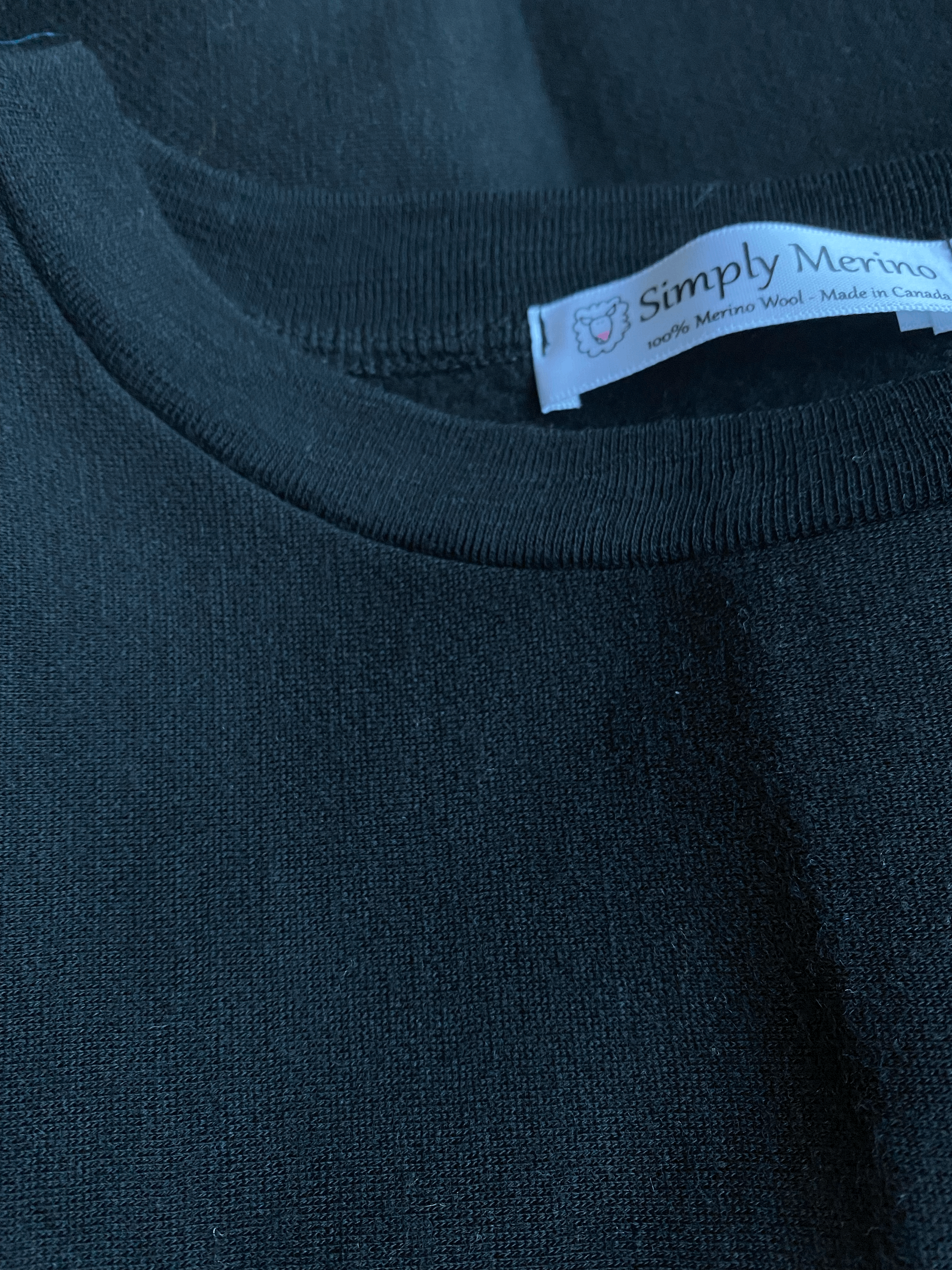 Simply Merino: The Backstory
Simply Merino was launched by Shannon Dixon and her husband as a way to get well-made, 100% wool clothing on babies and children. To reduce waste, Shannon added smaller items as well as the insanely popular craft boxes that contain one pound of Merino fabric scraps for $10. (That's how I found out about the company.)
A handful of adult-sized garments have been added to the line-up, including tops, leggings, and, most recently, the women's sweatshirt.
Shannon designs everything herself from her home in Vancouver. The clothing is also manufactured in Vancouver.
First Impressions
The first thing you'll notice is that this sweatshirt does not feel like wool. And I don't mean that in a bad way. It feels like a sweatshirt should. The fabric is smooth and substantial on the outside, brushed to fluff on the inside. If you have a friend who insists that wool is awful, this would be the perfect gift to give them. But tear off the tags first to make the big reveal even more satisfying.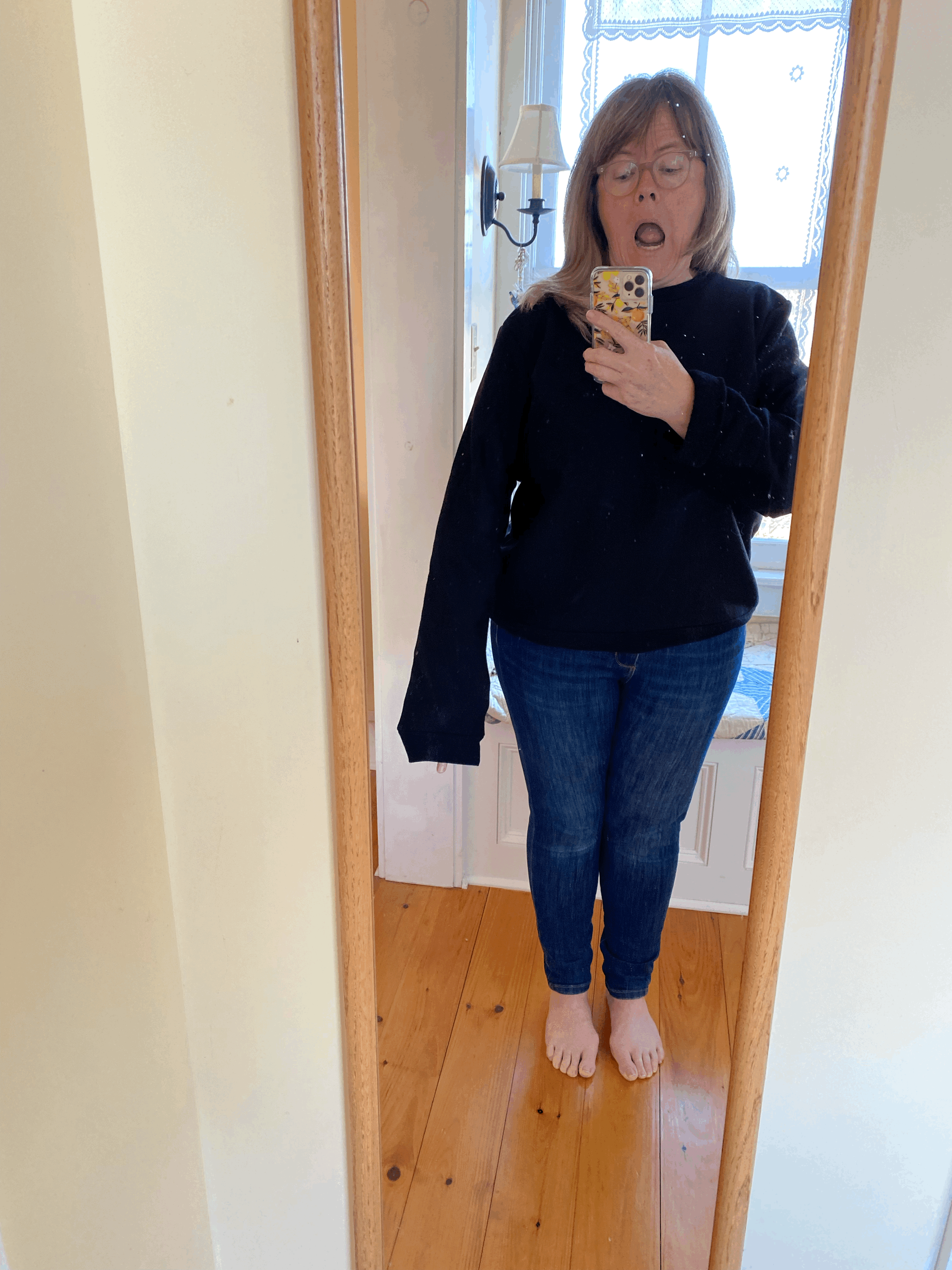 Stylistically, it's been designed for comfort and functionality. This is a sweatshirt, not haute couture.  
The shoulders have a presence of their own. They did calm down some after a day of wear, but, again, the goal here is a boxy fit. I got the XL so that I could wear it over things, and the length was perfect for me. Usually that size is too long and makes me look like a tree trunk.
This being such a small company, it'll come as no surprise that the sweatshirt is currently only available in two colors: black and mustard. It is available in five sixes, from XS to XL, or from a 30-inch to 44-inch chest. That's a limited size range, but since this isn't a billion-dollar company, I'll cut them some slack.
Shannon warned me that there could be up to 2% shrinkage in some wash situations. But as we learned last week, even the Woolmark gold standard for machine-washable processing allows for up to 5% shrinkage. So 2% is actually a feature, not a drawback. Shannon said she's tossed hers in the dryer a few times and it was fine. I haven't dared try yet.
A Remarkable Supply Chain
All the Merino in Simply Merino clothing comes from a supplier who sources from 80+ Australian farms that have been Woolmark- and Responsible Wool Standard-certified.
The wool is then processed—still in Australia, mind you—all the way to the finished fabric at a solar-powered facility that has its own on-site water treatment plant and reuses 85% of its water either through the manufacturing process or via third-party recycling programs. All steps of the fabric manufacturing have been Oeko Tex 100 certified to be free from harmful chemicals, including scouring agents and dyes. This, my friends, is a fabric you want to put on a baby.
To put the remarkable nature of Simply Merino's fabric and manufacturing in context, let's look at how Icebreaker does it. The company sources its wool from Australia, New Zealand, or South Africa. Top-processing takes place in China, the yarn is spun in China, Germany, Italy, Romania, or Bulgaria. The fabric is then made in China, Vietnam, Taiwan, or Japan, before being cut and sewn in China, Vietnam, Bangladesh, Cambodia, Italy, or the United States. Icebreaker's Dalston long-sleeved sweatshirt retails for $195 and is made of 88% Merino, 9% nylon, and 3% spandex.
This sweatshirt retails for $125 and is made of 100% Merino that went from Australia to Vancouver, period.
Final Thoughts
I found myself longing for pockets. Or a version with a zipper. Or even a tunic version, like Wool&'s Mara sweatshirt dress (currently backordered until January 2022, so don't get your hopes up). And I wanted more colors, because mustard makes me look like someone you'd want to avoid in public.
Now let's walk through the pluses.
Excellent wool fabric, check.
Sourced from mills using processes that are certified not to destroy the environment, check.
Cut and sewn in a country (Canada) with a solid history of worker protections and rights, check.
Machine-washable for people with busy lives, check.
Last but not least, it's priced at a level that is lower than or comparable to most of the imported wool performance outerwear making the rounds.
The fact that all this comes from a two-person company that isn't valued at billions of dollars? Priceless.
Comments